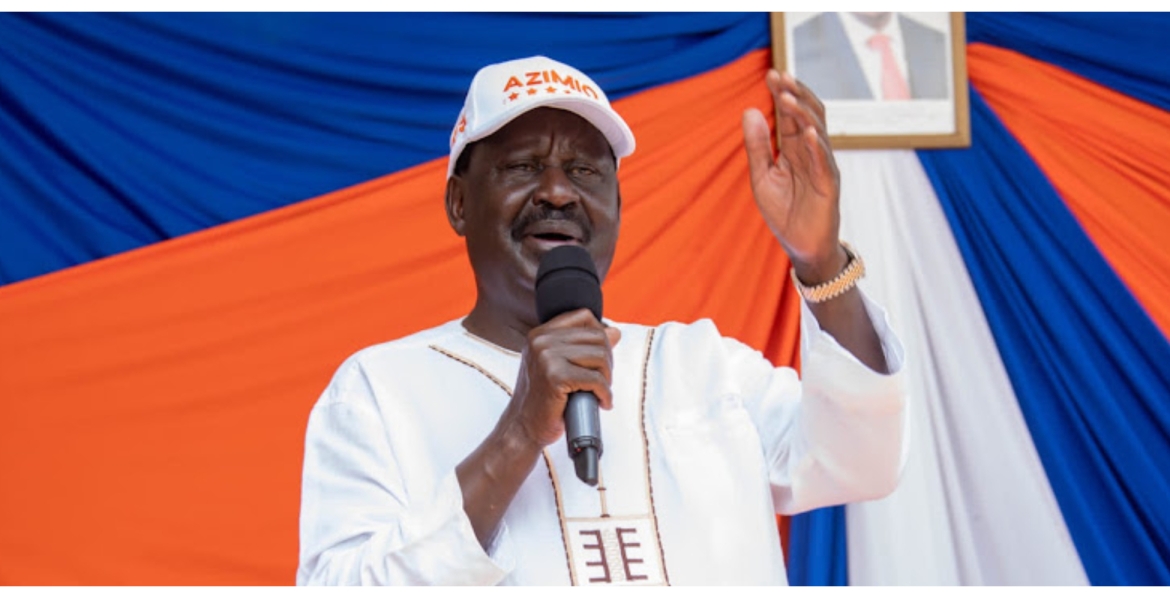 Azimio La Umoja-One Kenya coalition presidential candidate Raila Odinga has hit out at Deputy President William Ruto for linking President Kenyatta to an alleged plot to rig him out in the upcoming election.
While dismissing the rigging claims as false, Odinga termed the deputy president's attacks against Kenyatta as unwarranted saying the president will be retiring from office after next week's elections.
"Don't come with shadow boxing and shadow shows that Uhuru wants to rig the elections using provincial administration to intimidate members of the IEBC and so on. Hakuna kitu kama hiyo," Odinga said at a rally in Kisumu on Thursday.
He further exuded confidence that Kenyans will overwhelmingly vote for him as the country's fifth president, adding that he does not need any State assistance to win the elections.
"We do not need the chiefs, assistant chiefs or administration officials to win these elections. We will win these elections through the votes of the people of Kenya," Odinga added.
Odinga, who will lock horns with Ruto in Tuesday's presidential duel, urged residents to turn out in large numbers to ensure the Azimio coalition secures a round one victory.
On her part, Odinga's running mate Martha Karua projected that the coalition will secure victory in the first round with over 60 percent even as she blasted Ruto and his allies for hurling insults at their opponents.
"They are calling us projects, but I want to tell them that we are the project of Kenyans. They are corrupt and are a project of the corrupt cartels who want to suffocate our country," said Karua.
On Thursday, Ruto claimed that there is a scheme to intimidate voters and stir chaos in his Rift Valley backyard, adding that President Kenyatta is aware of the scheme orchestrated by four senior security officials as part of the plot to influence the outcome of the elections.
"Having realized they can't win this election, they want to disrupt this election. They want to cause conflict and that's why we are calling state agencies and the international community to speak to this matter," Ruto said.
 "The president of Kenya is aware and we are asking him in his constitutional duty to ensure that the country is safe and to stop this people from planning the evil they are planning."
He further alleged that chiefs were being coerced to interfere with the elections by issuing hate leaflets in a bid to suppress voter turnout in certain regions.
"Chiefs and County commissioners are being forced with threats and blackmail of losing of their jobs if they don't become Azimio operatives," said Ruto.