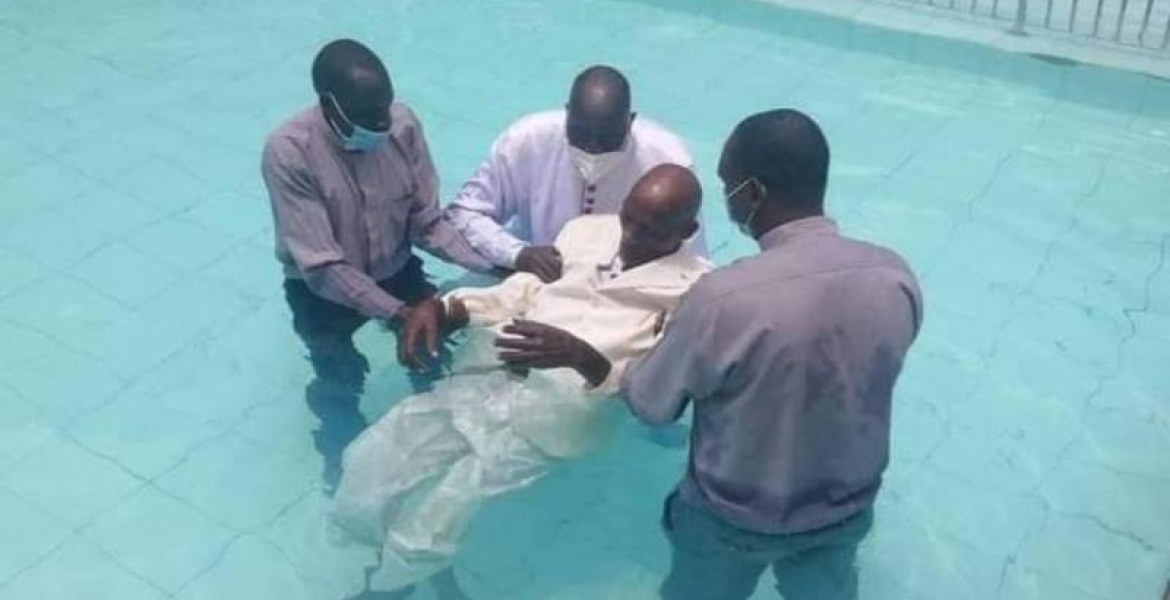 Controversial Eldoret tycoon and farmer Jackson Kibor has chosen to "change his ways" by accepting Christ into his life.
Kibor, known in the social media space as the Chairman of the Men's Conference, was on Monday baptized by retired AIC Bishop Silas Yego.
The baptismal ceremony was conducted at Boma Inn's swimming pool.
A short video shared on social media shows the former politician, who is dressed in a white suit, being immersed in water by Bishop Yego with the aid of two other men. 
His daughter Loice Chemeli said the family is delighted that their dad has finally chosen Christ.
"It is true. We are happy that he has chosen this path. We never got tired of praying for him. He has calmed down and we are thankful to God," Chemeli told Tuko News.
Last year, the 87-year-old former Councillor said he had finally reconciled with his wives and children after years of disputes.
Kibor, who grabbed media headlines over his endless court battles with his wives and sons, said he was ready to distribute his Sh6 billion estate among them.
The octogenarian has 26 children, including 16 sons with his four wives, one of whom has died and divorced two. 
The court allowed him to part ways with his wives Naomi Jeptoo and Josphine Jepkoech in 2017 and 2018 respectively for deserting their matrimonial home and mistreating him.
In an interview with The Star, Kibor said his past was horrible but he does not regret it since it made him who he is today.
"My background was horrible but that is in the past and I have no regrets because that life made me who I am today," Kibor said.
Having seen it all in life, the large-scale farmer said he is ready to die peacefully and asked his family to remain patient as he decides how to distribute his wealth.
"I will only give them wealth as I wish," he said, adding that he is still healthy due to regular exercises and revealed he takes a bottle of beer weekly.
In May last year, Kibor won a court battle for a 2,000-acre piece of land against his six sons. Justice Antony Ombwayo ruled that Kibor was the rightful owner of the land located in Soy Constituency and ordered the sons to vacate within 150 days.
The court established the six sons illegally subdivided and processed title deeds to the parcel before selling it to third parties.
"Hawa watoto yangu ni wakora…wakora kwa sababu waliuza nyumba yangu Karen, Nairobi, na wakauza ingine Nyali, Mombasa," said Kibor after winning the case.