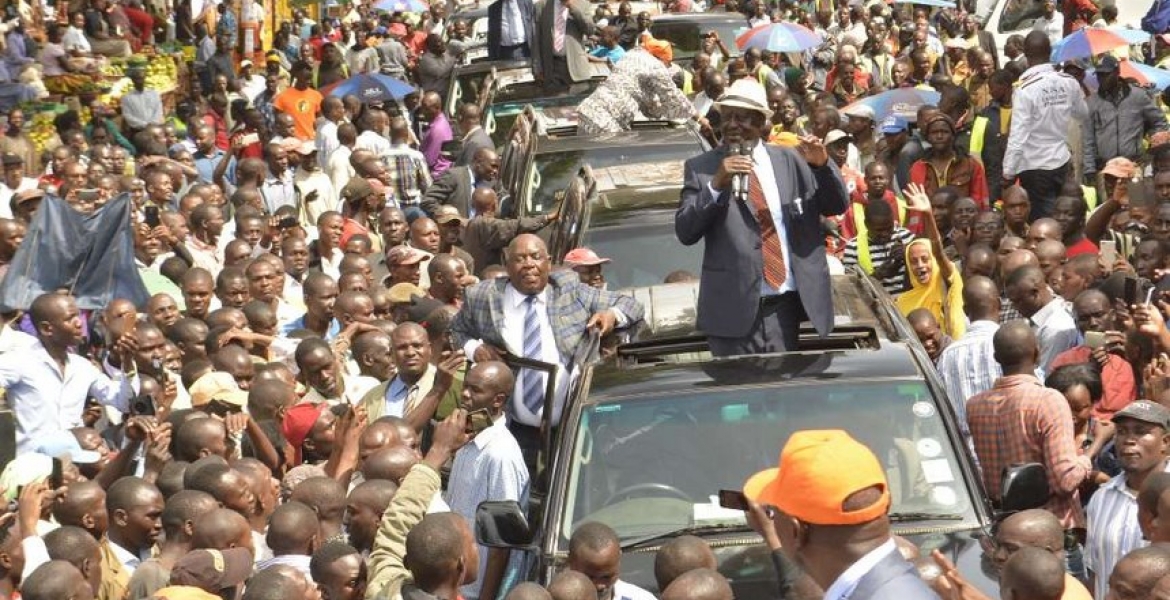 ODM leader Raila Odinga has dismissed claims that there are cracks in the Nasa coalition. Raila, while on a tour of Kisii on Wednesday, said the coalition is in a strong and united position to unseat Jubilee in the August general election.
He also dismissed as Jubilee propaganda reports that Wiper leader Kalonzo Musyoka has threatened to leave NASA. "Ignore rumors that Kalonzo has quit NASA. I have spoken with him and he has assured me he is in to stay," Raila told the crowd.
Raila's statement follows sentiments earlier in the week by National Assembly minority leader Francis Nyenze, a Wiper member, that Kalonzo will leave NASA if he is not named the coalition's flag-bearer. Nyenze said that an MoU signed in 2013 between Raila and Kalonzo stated that Raila would be the flag-bearer in 2013, with Kalonzo taking the helm in 2017. He had given NASA a seven-day ultimatum to name Kalonzo as the flag-bearer, failure to which Alonzo would break away from the coalition and run on his own.  "The Kambas have reached an edge and if it is not Kalonzo, Wiper will go it alone. We'll not play second fiddle to anybody," Nyenze had said.
While Kalonzo has not responded directly to claims that he is on the verge of leaving NASA if he is not named the flag-bearer, his party's secretary-general Hassan Omar dismissed Nyenze's comments and said that Wiper "is conscious of its obligation to this nation and its posterity to bring to an end Jubilee's misrule."