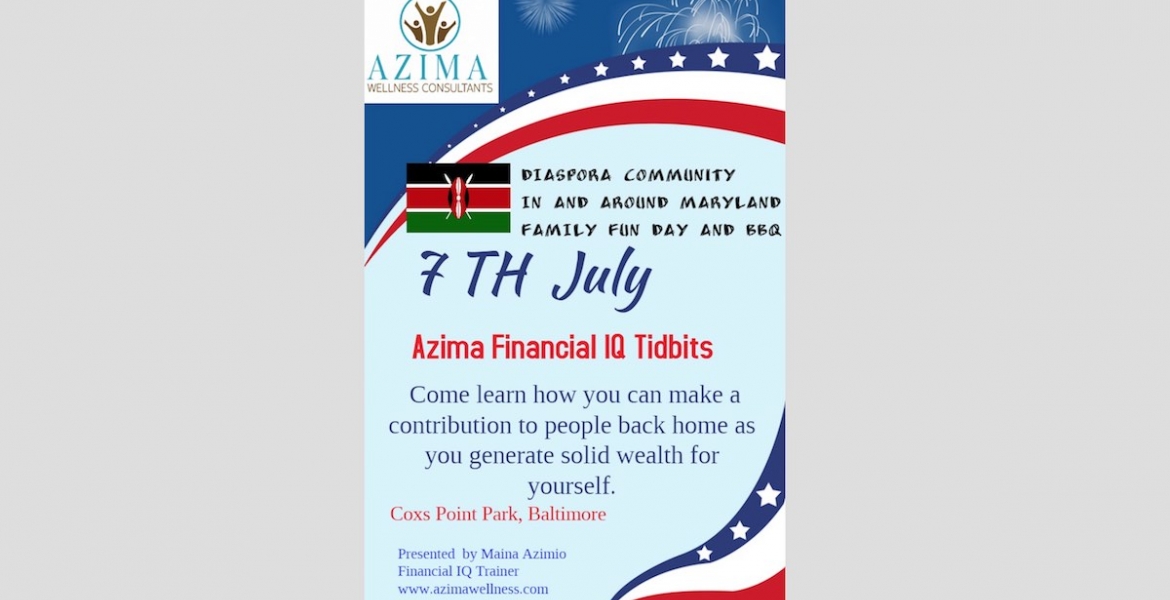 Mr Maina Azimio, the CEO of Azima Wellness Consultants and a leading financial intelligence trainer and wellness coach will be  engaging the diaspora community in the USA during the Annual Independence Day Celebration/Family Fun Day & BBQ in Baltimore, Maryland on Saturday, July 7th at Cox Point Park.
Azima Wellness is a leading wellness company based in Nairobi Kenya. Azima (Kiswahili word for to give in loan or to lend ) empowers people with knowledge on how to take care of their health, mind, money, financial and emotional wellness. These are the 4 pillars in life that keep us playing small. "If you sort out these four, your life will transform to epic level," says Mr Azimio.
Message from Mr Azimio:
I applaud the diaspora community in especially those of you in the US for the financial support you send back home. You have become an industry that generate the highest foreign currency for our economy. Last year you cm sent over 200 billon. This year you had  already sent 112 billion by June. Congratulations.
But we need to take it to another level. What sector does this money you send go into?
It is possible to  invest it in more productive sectors that will create jobs for our youth, generate passive income streams and wealth for the hard working Diasporians and expand our country's  tax base.
Azima wellness  will be sharing the low hanging fruits that this money can be channeled to create more money and a win win for all.
Visit our stand tomorrow during the Family Fun Day at Cox Point Park in Baltimore, MD where I will be sharing tidbits how we can do this.
I am also available for a one on one or group meetings in the evening after the Park event, at Hampton Inn Baltimore/White Marsh; 8225 Town Center Dr, Baltimore, MD 21236.
Call/WhatsApp: +254 722 516 896.
Visit our website azimawellness.com , our YouTube channel and blog to see what we do.
We are also on Facebook and twitter @azima wellness consultants.
Your health, mental , financial and emotional wellness is our concern.