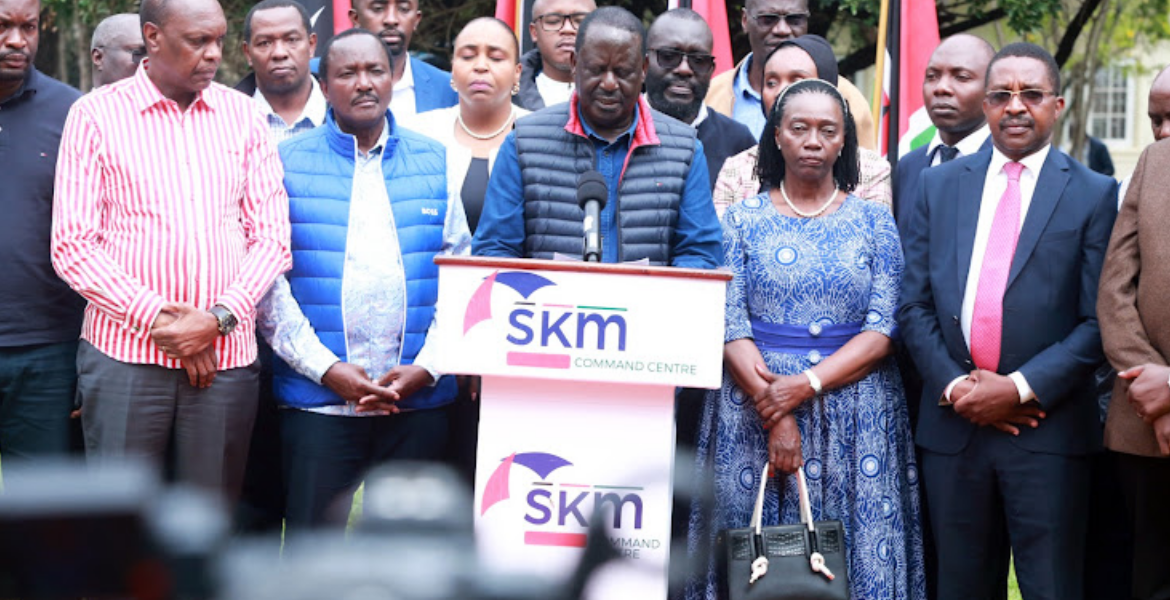 Azimio Leaders
Azimio has released a report card evaluating the Kenya Kwanza government's first year in office.
The group led by Raila Odinga has given the administration a 30% grade equivalent to a D- citing a variety of issues including the rising cost of basic commodities which the government has allegedly tried to downplay. Azimio highlights that the price of fortified unga has increased by 8.1% for a 2kg packet, while electricity has gone up by 68.7% for 5.50 kilowatts. Additionally, 200 kilowatts of electricity have gone up by 48.8%, and kerosene has risen by 31.1% for a litre. Finally, the report notes that diesel has gone up by 28.0% for a litre while petrol has gone up by 22.1%.
The opposition in Kenya has criticized the government's policies that have caused the Kenyan shilling to lose its value against the US dollar. They note that the currency has lost 25% of its value against the US dollar in one year and 20% of its value against the Ugandan and Tanzanian shillings. This has led to an increase in the cost of education for Kenyans studying abroad and an increase in the cost of imports. The opposition also accuses the government of increasing borrowing and spending, despite their pre-campaign pledge to reduce borrowing and increase spending by only Sh400 billion.
The Raila-led outfit laments that the government has increased taxes during a time when the overall economy has been shrinking, leading to the closure of many small businesses. Finally, the opposition claims that the government has made farming more expensive for farmers by increasing the cost of diesel fuel. Azimio further complains that the education sector in Kenya has been neglected by the government, resulting in insufficient funding and parents having to bear the heavy brunt of paying the additional school fees. Despite receiving the largest portion of the 2023-24 budget at Sh628.6 billion, the cost of education has increased by 225% in the first year under Kenya Kwanza.