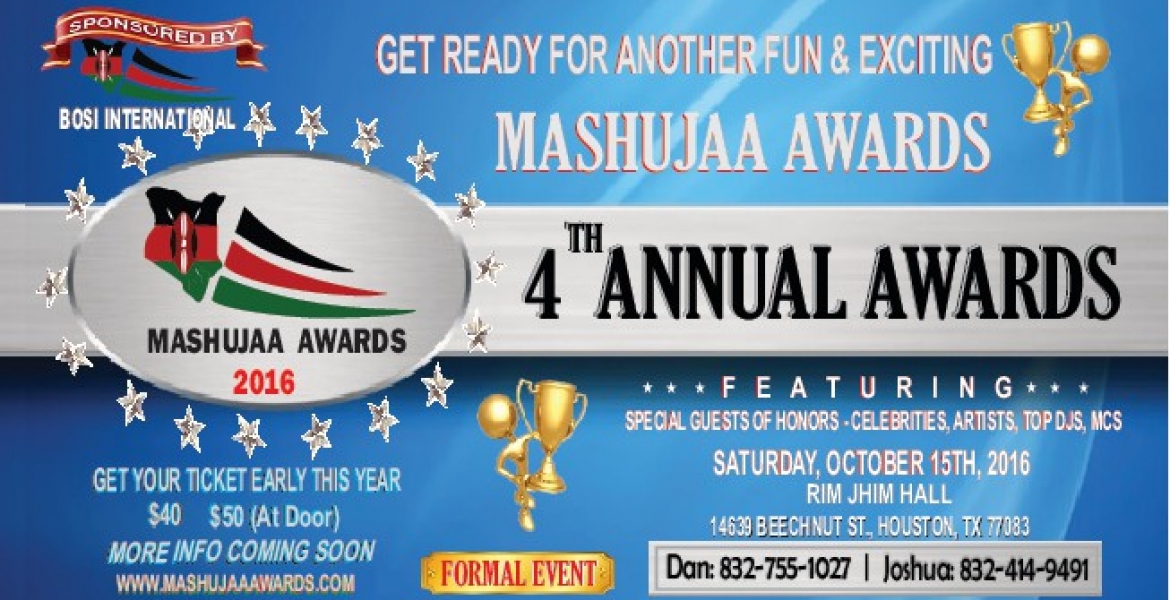 Building on the spirit and sacrifices of the heroes (mashujaa) who fought for Kenya's independence, and coinciding with Mashujaa Day which is celebrated on October 20th every year, the Annual Mashujaa Awards Gala recognizes and celebrates the achievements of Kenyans both in the Homeland Kenya and the entire Diaspora at large.
Get ready for another fund exciting Mashujaa Awards, the 4th Annual Mashujaa Awards Gala that will be held on Saturday, October 15th, 2016 in Houston, Texas.
Special Guests of Honor, celebrities, artists, top DJs & MCs will be in attendance.
Entertainment will be provided by Samba Mapangala, The Amani Musica Band, DJ Babu, MC JT & Asya Fashion Show.
Hosted by Kamnao and Laban Opande
Nominations under the following categories are ongoing online (and closing on September 20th) under the following categories: Leadership, Social Media Awareness, Humanitarian, Community Organizer, Education, Business & Entrepreneurship, News, Media & Entertainment, and Cultural Awareness & Preservation.
Nominate your favorite personalities/organizations at www.mashujaaawards.com/mashujaa-awards-2016-nominations-2. 
Venue: Rim Jhim Hall; 14639 Beechnut St, Houston, TX 77083. Doors Open 5pm till late Red Carpet Affair  | Dress to Impress | Food & Drinks Available | Entertainment
Advance tickets are available online at $40 ($50 at the door). Purchase yours before they sell out at www.mashujaaawards.com.
For more information please contact:
Dan: 832-755-1027
Joshua: 832-414-9491
The Mashujaa Awards Gala is sponsored by BOSI International Association, Optiven Ltd, Kings Pride Real Estate, Kenya Diaspora SACCO, Stima SACCO, Cytonn Diaspora, Equity Bank, and Unity National Bank.