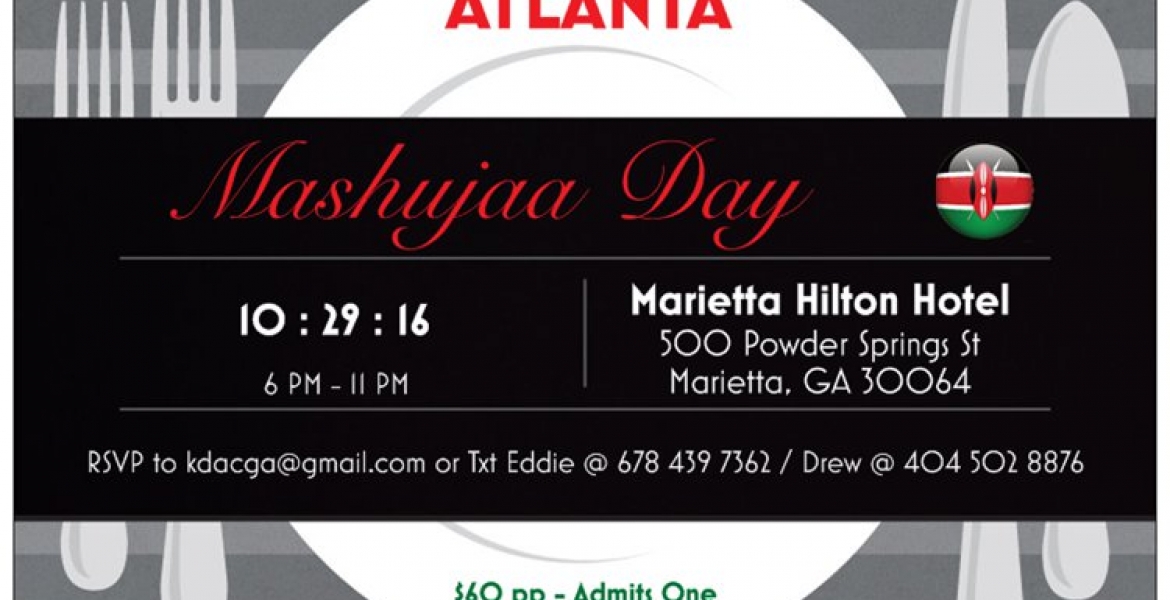 The Kenya Advisory Council of Georgia (KDAC-GA) is pleased to invite you to the 2016, Mashujaa Day National Celebrations on Saturday, October 29th, 2016 at the Marietta Hilton Hotel from 6:30pm to 11:00pm. 
Mashujaa is Swahili for Hero and Mashujaa Day is a Kenyan National Holiday observed on October 20th to honor all those that contributed towards the struggle for Kenya's Independence, and it was previously known as Kenyatta Day in honor of Kenya's first President Jomo Kenyatta who was seen as a Hero by many.
Our Primary Objectives are;
To develop a World-Class & self-funded Annual Event that recognizes and awards local hero's while at the same time celebrating our Youth and our National Heritage, for and by the People of Atlanta.
To make the people of Atlanta, fall in love with Atlanta again by show casing some of the success stories that have come up through Atlanta, and the need to celebrate our successes every year.
On this day we will be recognizing and honoring our local Hero's here in Atlanta. We will also have a special focus on our Youth who are indeed the future leaders of tomorrow. 
We are proud to put together a wonderful, first class event and your presence will greatly enhance this program we look forward to seeing you soon.
It is touted to be the biggest celebration awards event of the year, attracting top dignitaries from the DC Embassy and hundreds of Kenyans from Atlanta and the neighboring states.
Tickets are $60 per person or $100 per couple and can be purchased at www.eventbrite.com/e/mashujaa-day-atlanta-2016-tickets-27744876673
For more information please contact Eric at kdacga@gmail.com or text 678-230-4727.
RISE UP ATLANTA.
 - KDCA - GA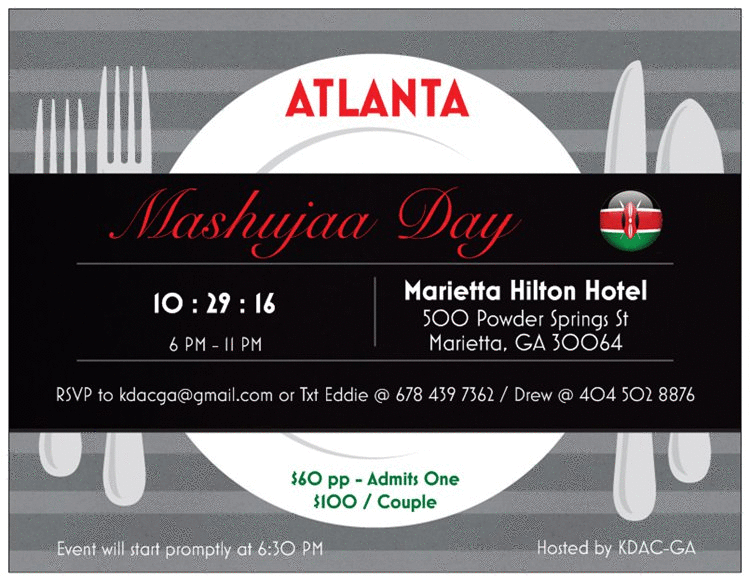 RELATED: Mashujaa Day Celebrations FREE Family Barbeque in Roswell, Georgia: Sat, Oct 22nd