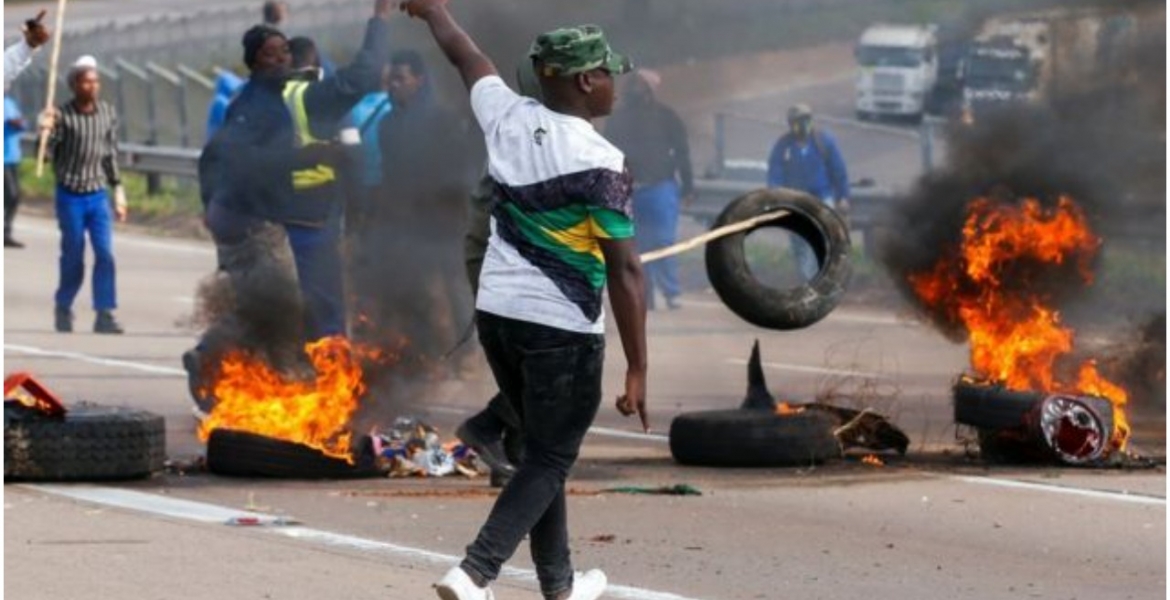 Kenyans living and working in South Africa have been affected by the spiraling unrest occasioned by the incarceration of former President Jacob Zuma.
The protests that have since degenerated into looting and destruction of the property began in Zuma's home province of KwaZulu-Natal and spread to Johannesburg and other parts of the country.
Protestors poured to the streets after Zuma, 79, handed himself to authorities last week to begin a 15-month sentence handed to him by the constitutional court over contempt of court.
On Monday, the South African government deployed the military on the streets to quell the unrest.
Some Kenyans who spoke to Nation said they have been forced to shut down their businesses and stay indoors for their safety.
Godfrey Kamatu, the chairperson of Kenyan Diaspora in South Africa (Kedasa), said they have advised their members to keep off areas hit by protests. 
"We have not been able to go out to our workplaces because of safety reasons. We have been able to account for every of our members, but it is not safe to go out just yet," Kamatu told Nation.
Kamatu pointed out that although the protesting youths are not beating people, they are looting food and vandalizing property.
Peter Mbugua, a car dealer in Johannesburg, said rowdy protesters destroyed his yard and damaged cars.
"Depending on where you are, there has been no protection against looting. Some of the looters were arrested but later released. They attacked my yard and damaged the cars. They did not steal, they just set some on fire," said Mbugua, adding that his business was also attacked in 2019 during the xenophobic attacks.
Stanley Kariuki, who owns fashion shops at Chris Hani Mall and Vosloorus Centre in Johannesburg said looters targeted one of his shops on Monday night.
"I sell fashion and other beauty accessories. I am safe but I lost one of my stores in the current looting spree," he said.
Authorities say at least 45 people have died as a result of the unrest with 19 being killed in Gauteng province and 26 in KwaZulu-Natal, the epicenter of the unrest.
Police Minister Bheki Cele on Tuesday said 787 people implicated in the torching of trucks, looting shops, burning tyres, and blocking of some major highways had been arrested following the protests.