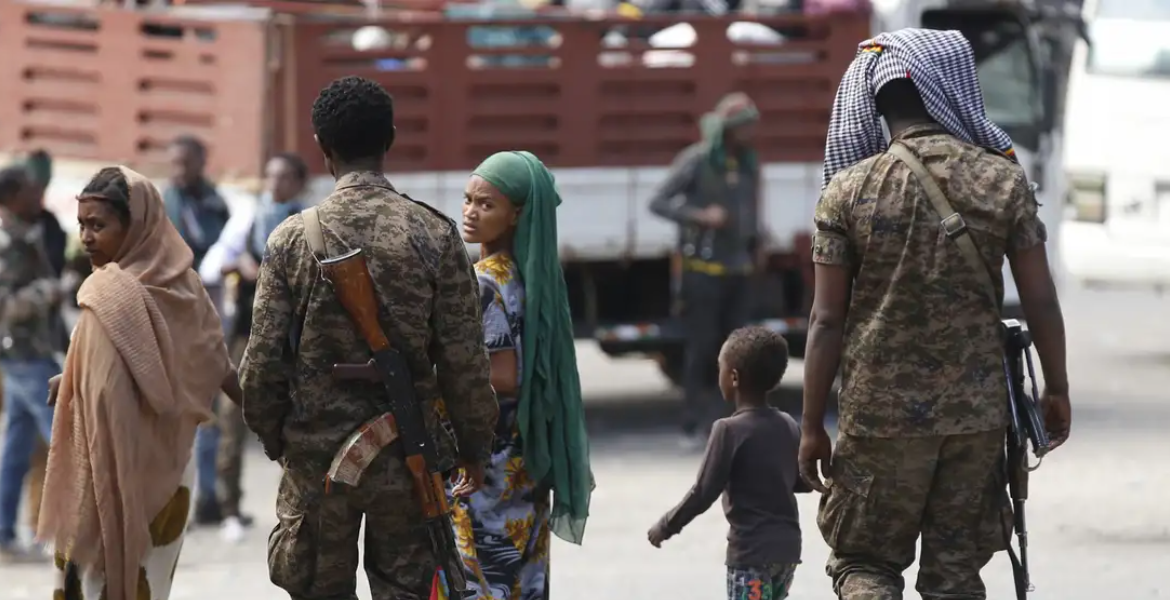 Ethiopian Security Forces Patrol in Amhara City
The governments of Kenya and Uganda are trying to locate their citizens who may be in the Amhara region of Ethiopia, which is currently experiencing a state of emergency following a rebellion. 
Diplomats from both countries are keeping a close eye on the security situation in the area affected by rebel activities but are yet to reveal official figures on how many of their citizens have been impacted. The Ethiopian government is focusing on suppressing the activities of rebel groups, including Adamo and Fano who resist government efforts to disarm regional militias. Though it has been reported that several Kenyans are stranded in the conflict zone of Gondar, there is as yet no conclusive evidence.
The mission can be contacted through various means including email addresses keaddisababa@gmail.com and addisababa@mfa.go.ke, as well as phone numbers +251 11 6610135/6, +251-929-107-859, 251976056336, and +254114757002. While it is unclear if any Kenyans have reached out or if the embassy has identified any trapped individuals, a spokesperson from the Ministry of Foreign and Diaspora Affairs has stated that they will be monitoring the situation. The Ugandan Ambassador to Ethiopia Rebecca Otengo has also communicated the situation to her headquarters in Kampala but has not commented if there are any Ugandans who may be affected. 
The difficulties faced by East African countries when responding to diaspora situations continue to persist as indicated by the ongoing situation in Amhara. This is reminiscent of similar challenges encountered during the Tigray war in November 2021 when nationals were trapped in conflict zones and had to rely on external sources for rescuing. These linked issues underscore the ongoing intricacies of diaspora responses in this region.
The Ethiopian government is trying to bring together the militia that fought alongside the national forces against the Tigray People's Liberation Front (TPLF) to increase unity in the army. However, some groups are against this, fearing that it will weaken their security apparatus. For instance, Fano claims that Amhara regional forces are targeting their community. The Ethiopian Council of Ministers declared a state of emergency on Friday which led to the establishment of the General Department Command. This new department will be headed by the country's spy chief Temesgen Tiruneh.