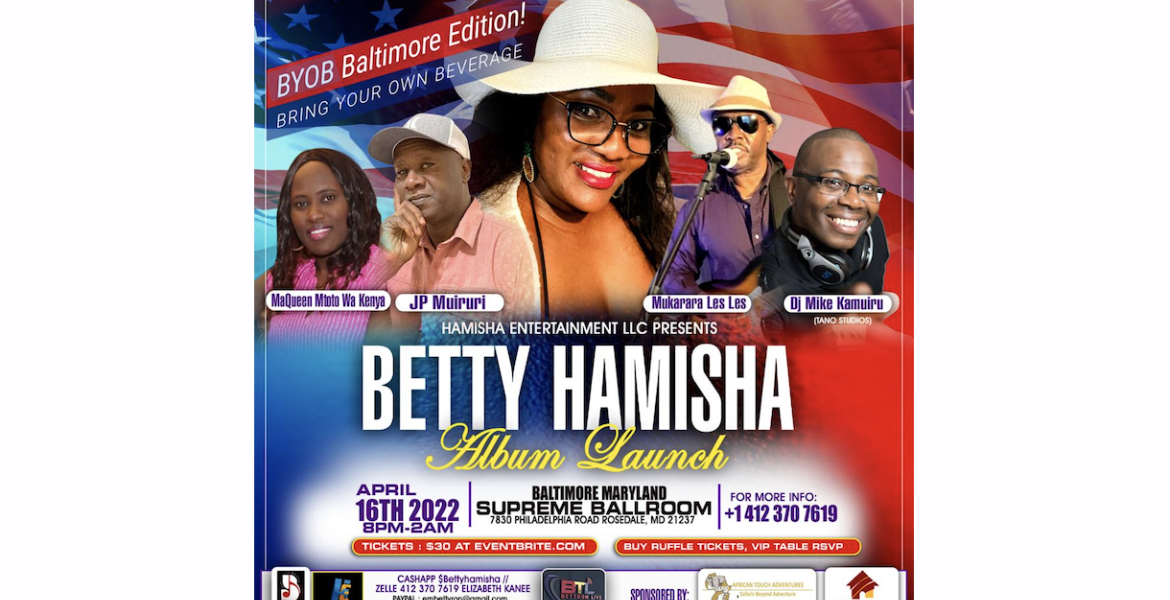 Kenyan artist Betty Hamisha invites you to a Mugithi night/album launch on Saturday, April 16, 2022 in Baltimore, Maryland.
The event will take place at Supreme Ballroom, located at 7830 Philadelphia Rd, Rosedale, MD 21237. Door open 8pm - 2am.
Betty Hamisha will be performing alongside other artists including MaQueen Motto wa Kenya, JP Muiruri and Mukarara Les Les.
Music by DJ Mike Kamuiru of Tano Studios.
This is a BYOB (Bring Your Own Beverage) event.
Purchase advance tickets for $30 at eventbrite.com.
Betty Hamisha, who currently lives in Pittsburg, PA, has so far produced 12 songs including hit songs Ciru, Nitwaumanirwo, Betty Mathibidi, and Wasi Wasi.
For more information including buying ruffle tickets and reserving VIP tables please contact: +1 412-370-7619.
CashApp: $BettyHamisha
Zelle: 412-370-7619 (Elizabeth Kanee)
PayPal: embettyron@gmail.com
MPesa: +254 798 650 374 (Ron Kamau)
Event is sponsored by African Touch Adeventures and Willstone Homes.