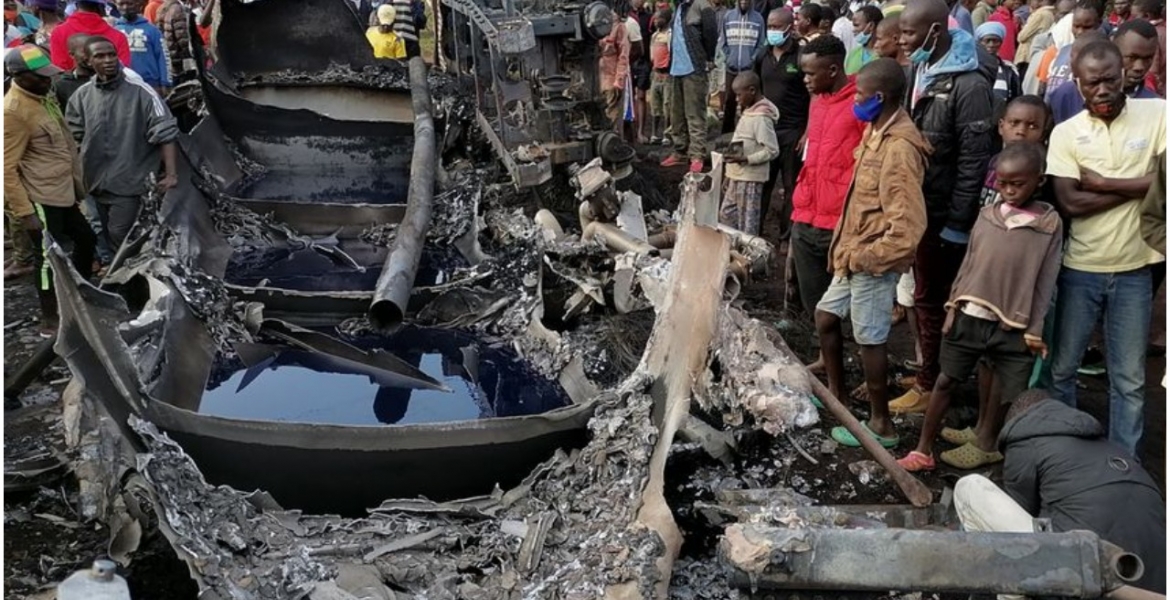 At least 13 people were killed after an overturned petrol tanker they were siphoning fuel from exploded along Kisumu-Busia highway.
Several other people suffered burn injuries during the Saturday night incident in the Malanga area in Siaya County.
The truck caught fire and exploded after one person opened a compartment to allow them to siphon fuel faster before the arrival of police, according to Gem OCPD Mosera Chacha.
"Members of the public took advantage and went to siphon petrol as one compartment of the tanker was open. Another resident realizing the other compartment was closed and delaying them, opened it to enable them to siphon very fast before the police could arrive and in the process, it caused a spark and blew up," said Chacha.
Chacha said the fuel tanker overturned after colliding with another lorry ferrying milk near Argwings Kodhek Secondary School. Both vehicles lost control and veered off the road before rolling and overturning.
Area residents rushed to the scene and started drawing off fuel before the tanker exploded a few minutes later.
Busia County government firefighters were called to the scene and managed to contain the fire after an hour.
More than 30 people who sustained burn wounds were rushed to Yala sub-county hospital for emergency treatment and later referred to Siaya County Referral Hospital.