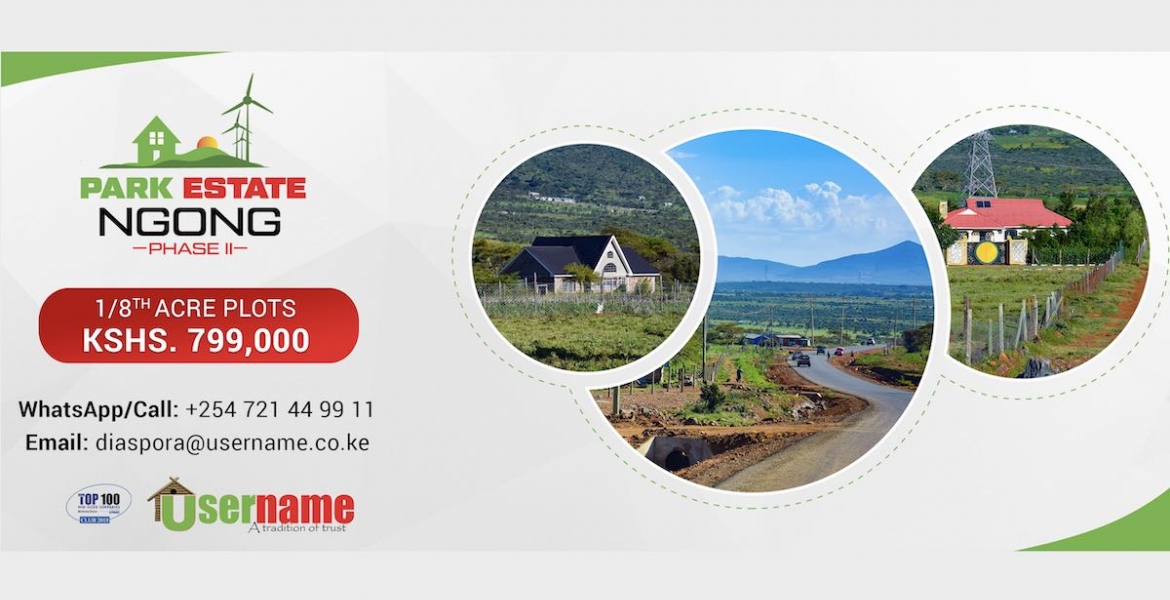 Have you been looking for affordable and residential plots for sale near Ngong Town? Park Estate - Ngong Phase II is a strategic and affordable residential land by Username Investments in Ngong. This property offers you a homely country-feel environment with amazing views of Ngong Hills.
Ngong enjoys well-designed residential homes and as an investor you will enjoy the cool breeze away from the hustle and bustle of the city. The newly tarmacked Ngong-Ewaso-Kedong-Suswa road has made access easier from Ngong Town, thus fueling demand for affordable plots around Ngong. Amenities such as water, electricity, schools, and health facilities are available.
The Ngong area has tremendously developed into a prime residential area with ease access due to expanded Ngong Rd and availability of affordable land for sale near Nairobi CBD. Despite the high cost of properties in the area, Park – Estate Ngong Phase II is fairly priced at only Sh799,000 for 1/8 acre plot as an opening cash offer for all investor looking for affordable plots for sale near Ngong Town.
Location
Park Estate Ngong Phase II is a 10-minute drive from Ngong Town and 2.5km from Kimuka shopping center. The area around is built up with beautiful residential houses, flat land, breezy and has a spectacular view of the Ngong Hills offering a serene environment. The distance from Nairobi CBD is only 35km.
Soil Type – Red Soil, good for Construction and Agriculture   
Value Additions
Perimeter fence
Estate gate
Graded access roads
Introductory Prices (per 1/8th acre Plot)
Cash Investors: Sh799,000 only (Sh80,000 minimum deposit, balance within 30 days)
We are extending a special offer of Sh750,000 for the first 30 fully paid plots.
An installment option for up to 12 months is also available as shown below;
3 months – Sh829,000
6 months – Sh859,000
9 months – Sh889,000
12 months – Sh919,000
The Minimum booking fee for each plot is Sh80,000. The price is all-inclusive i.e. legal fees, stamp duty and title transfer fees with no hidden charges.
Title Transfer: The project has freehold title deed (The registration of title deed takes a maximum of 6 months upon completion of payment.)
Special Offer for Chamas and groups: Buy 10 plots cash and get 1 plot absolutely free.
Title Transfer and documentation process
The project has freehold title deeds and our Client Relationship Managers (CRMs) will avail to you Offer Letters and Sale Agreement for signing during the purchase process and upon completion of payment you will fill in a Title Deed Transfer form. Once your title deed is processed we will ship it to you via your preferred courier service or write to us with instructions to give it to your lawyer or your family member.
To invest: