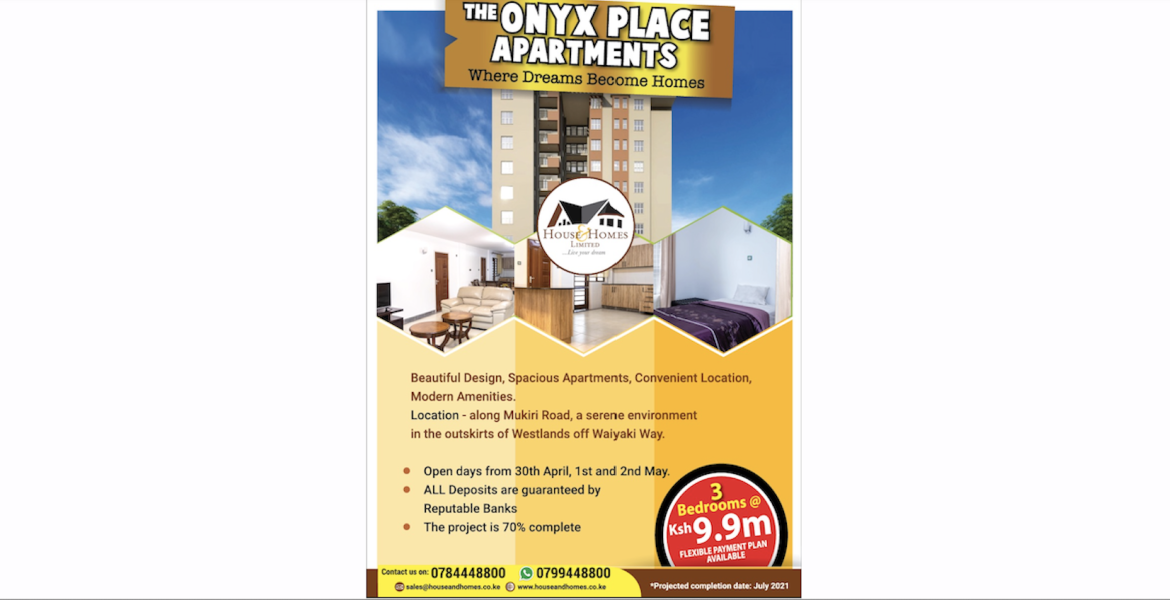 A perfect mix of luxury and modernity sometimes becomes reality. The Onyx Place Apartments is located off Waiyaki way on Mukiri road. It consists of 3 bedrooms with DSQ (145 sqm) and 3 bedrooms without DSQ (135 sqm). The Onyx has surely differentiated itself by the spacing provided. The living area is one of the major spaces in the house that one can customize to their liking. The interior of the Apartments is designed in a unique way such that family and friends can stay and soak up the beautiful finishing.
The entrance gives into a spacious area that consists of a combined living and dining area. From the entrance, it sets the necessary element of the concept and breaks down trivial trends in interior design. Large windows that bring in natural light, tastefully tiled floors, modern kitchen finishes, modern lighting are just but a few of the unique features that make these houses very attractive. For the 3-bedroom units with DSQ, one has an option between open-plan and closed kitchen.
We, at House and Homes Limited can confidently assure our potential clients that we have invested well in the interior of our houses from the finishing, to the architectural design, storage spaces to the more than enough space in every room.
The Onyx place apartments is well appreciated by potential investors as the returns are well defined. When you invest before the completion date (end of July 2021) you shall enjoy greater discounts on our cash payments. To safeguard the investors' funds in regards to completion delay, we as House and Homes Limited have taken a Bank Guarantee ensuring that ALL your funds are safe and secure.
The Onyx Place is located off Waiyaki Way on Mukiri Road, with an urban feel and natural ambiance for those who appreciate a lifestyle of quality and comfort. The project consists of 64 units sitting on a 3/4 acre of land. The apartments consist of 3 bedrooms without an SQ, with a plinth area of 135 Sqm (1453.13sqft) and 3 bedrooms with an SQ, with a plinth area of 145 Sqm (1560.77sqft).
Amenities
Two allocated parking slots per unit, and Ample visitors parking
Playing area for the children
Borehole with fresh water and solar water heating
Direct connection to sewer line
CCTV and electric fence
Introductory Price
Type 1 - Three (3) Bedroom with SQ - Kes. 10.45 M
Type 2 - Three (3) Bedroom without SQ - Kes. 9.9 M
Invest in The Onyx Place Apartments, where ALL deposits are guaranteed by reputable local Banks.
To invest