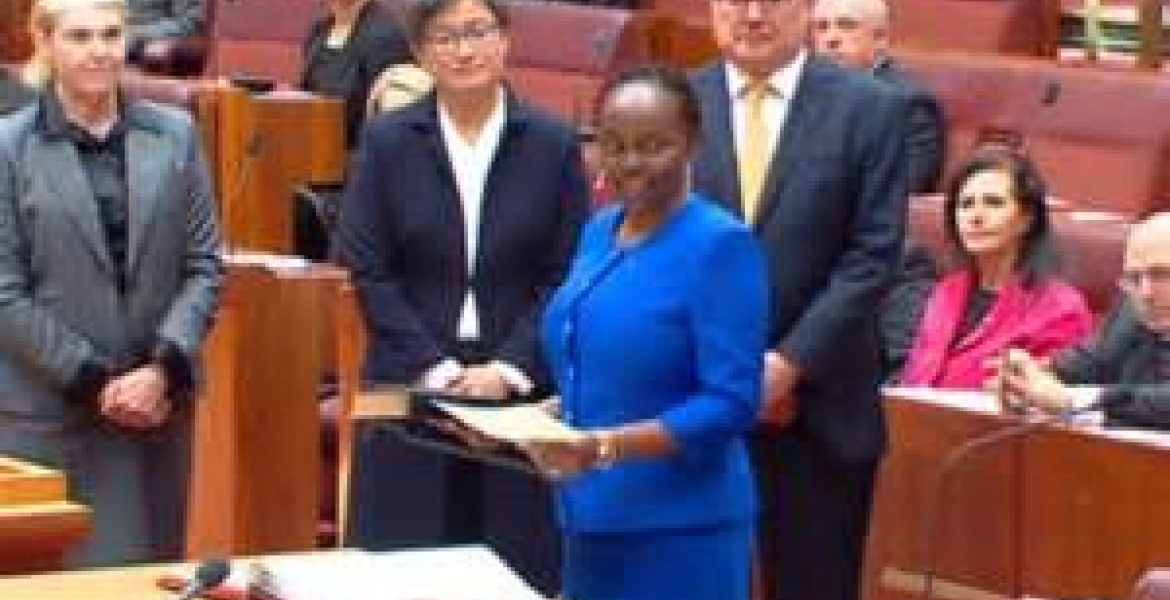 It was Jubilation and ululation in Mathira Constituency in Nyeri County as the family of Lucy Muringo Gichuhi celebrated the fete achieved by their daughter, who was on Tuesday sworn in as the first black senator in Australia.
The chances of occupying the senate for the Kenyan born lawyer had appeared over, with only 152 primary votes polled in last year's election until the High Court in Australia found that Family First Senator Bob Day had breached the constitution and therefore ineligible to occupy office. The court then ordered a special recount of ballot papers to determine his replacement, Ms Gichuhi, who was Family First's second senate candidate, got enough votes to propel her to the senate.
She would further face another challenge as her eligibility to occupy the seat was challenged in court over her nationality.
She however was declared eligible to hold the office by the court since she was a duly registered Australian Nationality as opposed to Kenyan nationality as the petitioner had argued.
Her family burst into song and dance to celebrate their daughter's achievement after she took the oath of office on Tuesday. "We woke up to the news because we could not watch it live due to the seven-hour time difference," her sister, Gichungo Weru said.
"After her swearing-in things are now clear. No specific date has been set but we are making plans to celebrate the achievement," Weru said.
Although no member of the family was present witness the fete, Weru revealed that plans were underway to have the family represented when she will be making a maiden speech as senator, next month.  "No member of the family left the country to witness her inauguration but we have a lot of close relatives and one of our sisters in Australia. We were well represented," she said.
Ms Gichuhi took to social media to express her joy following her swearing in, thanking God and her family for the support they accorded to her. IIn a post on Facebook, Gichuhi said she was "honoured and humbled to be sworn in today as the first-ever person of black African descent in the Australian parliament".
"I thank God, my husband and daughters, my father and all other friends, family and supporters for your encouragement, and sharing the vision we hold to unite Australia as one," the new senator posted.