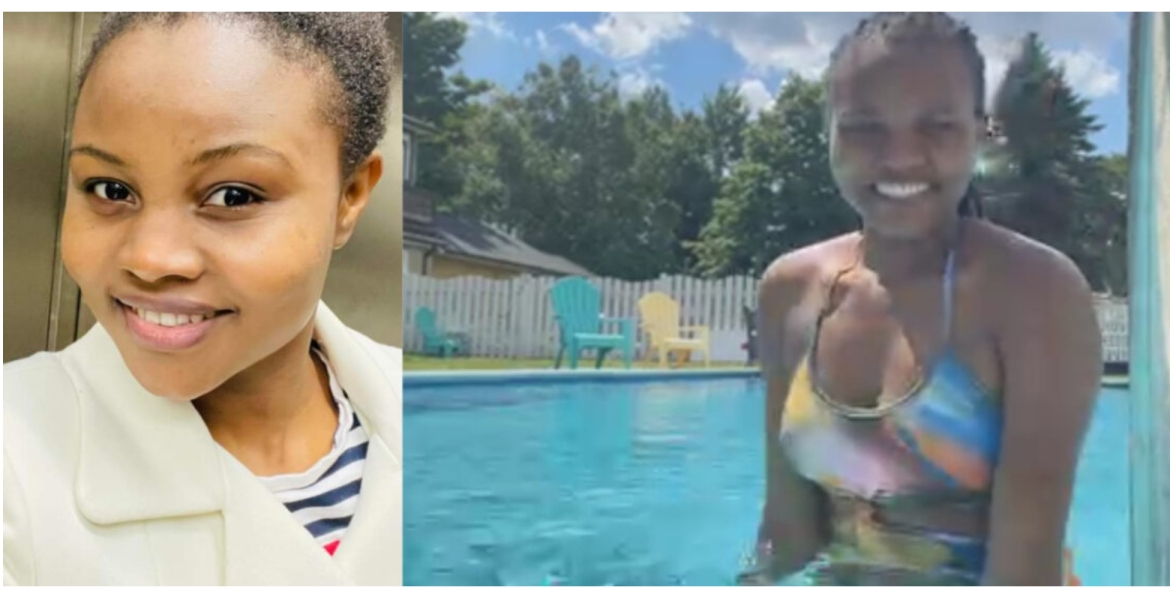 The family of a Canada-based Kenyan woman who drowned in a swimming pool while streaming live on Facebook on Thursday has confirmed her death.
24-year-old Hellen Wendy Nyabuto, a resident of Toronto, drowned about 10 minutes into the live video but her phone continued to record for over three hours.
Her father John Nyabuto told The Standard on Saturday that her first-born daughter, who relocated to Canada in December 2019 after securing a 10-year study visa, died during the incident.
"She was 24 years old. She sat her KCSE some six years ago at the Itierio Girls' Secondary School in Suneka, Kisii County," Nyabuto said at his Mesesi Village home in Bomachoge Chache, Kisii County.
"After completing her secondary education, she tried her hand at various small-scale businesses. Later, she participated in the green card lottery programme. That's when she secured her visa to Canada."
"Upon her relocation to Canada, I was hopeful that she'll get a job and help me educate her younger siblings. During our conversations, she'd tell me that life in Canada was good. Her nursing studies paid off as she got a part-time job. She used part of her income to pay her tuition fee and also sent some to us," added Nyabuto.
Nyabuto, a retired teacher, says he received a text message from Hellen's friend in Canada informing him that his daughter had drowned in a swimming pool.
"Later that evening, Canadian officials called to inform me that Hellen was receiving treatment in hospital. The caller [from Canadian authorities] did not, at that moment, disclose what led to Hellen's hospitalisation. As I was scrolling through my phone, I saw on social media a video clip of my daughter swimming before drowning, and everything went silent thereafter," he said.
"I received another call from Hellen's friend informing me that my daughter had been pronounced dead on arrival to hospital. The private swimming pool where she drowned wasn't far away from where she worked."
Nyabuto dismissed claims that his daughter had a premonition of her death.
"I hear some people claiming she had said on WhatsApp that she'd soon die in Canada. As her father, she never shared with me any information that suggested she was in distress or any form of trouble," said Nyabuto.
He appealed to the Ministry of Foreign Affairs and well-wishers to intervene and help the family bring her body to Kenya for burial. Hellen's body has been preserved at a Toronto hospital morgue.
"I've been crying helplessly ever since I received the news. I'm now wondering how her body will be repatriated to Kenya. I have lost a child whom I loved dearly. I don't know how much it would cost me to have her body flown to Kenya," he said.