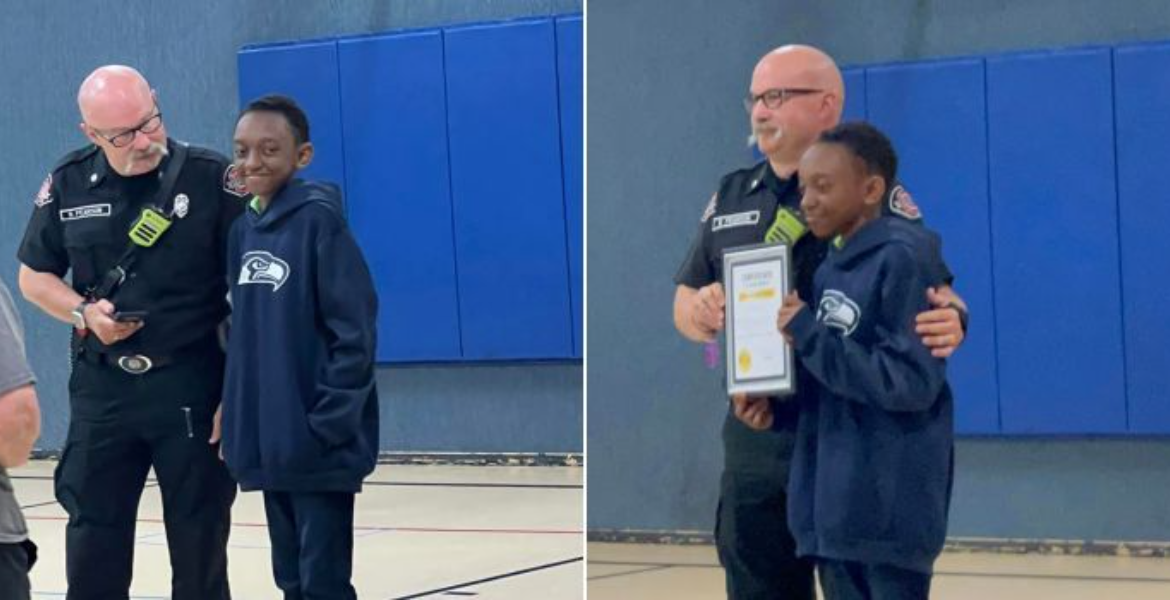 Photo Collage of Roy Ngunjiri Receiving the Life-saving Recognition Award
Roy Ngunjiri, a Kenyan-American boy from Everett, Washington, USA, was commended by the local Fire Department for his courageous deeds when he rescued his grandmother from a life-threatening situation. 
Officers surprised him at Forest Park Adventist Christian School in Everett where they presented him with an award of appreciation for his lifesaving actions.  Present was Everett firefighter Bronson Pearce who lauded the boy's action and recounted how Ngunjiri's quick thinking managed to prevent a deadly incident. 
"When he realized he could not help his grandmother, he called 911. While waiting for the fire department to show up, he called his mother to alert her. He then tied up the dog to ensure he wouldn't interfere with the paramedics. Roy cleared the path for the paramedics to enter. While they were assisting his grandmother, he packed a backpack for her with all the stuff she needed for the hospital. I hadn't even thought about that and I do this for a living," he stated   
Mr Pearce remarked that Ngunjiri's heroic footing continued to come to light as he agreed to accompany the authorities to the hospital to help with translation. The award was presented coinciding with the 49th annual Emergency Medical Service (EMS) week slated for May 21st until May 27th, 2023. This tradition was inaugurated in 1974 in an attempt to honor paramedics and Emergency Medical Technicians (EMTs) for their work.
Not long after receiving his award, Ngunjiri was also featured on various US media outlets where journalists heaped praises on him over his quick thinking when his grandmother's condition called for urgent medical care. Lands Chief Administrative Secretary Kimani Ngunjiri touted the boy for his remarkable show of courage. 
"A Kenyan Boy making headlines in the US after saving his grandmother during an asthma attack that would have left her in a dire state. Roy Ngunjiri we are proud of you and your future is bright. Jane Ngunjiri (Roy's mother) blessings to you and your family," he said.