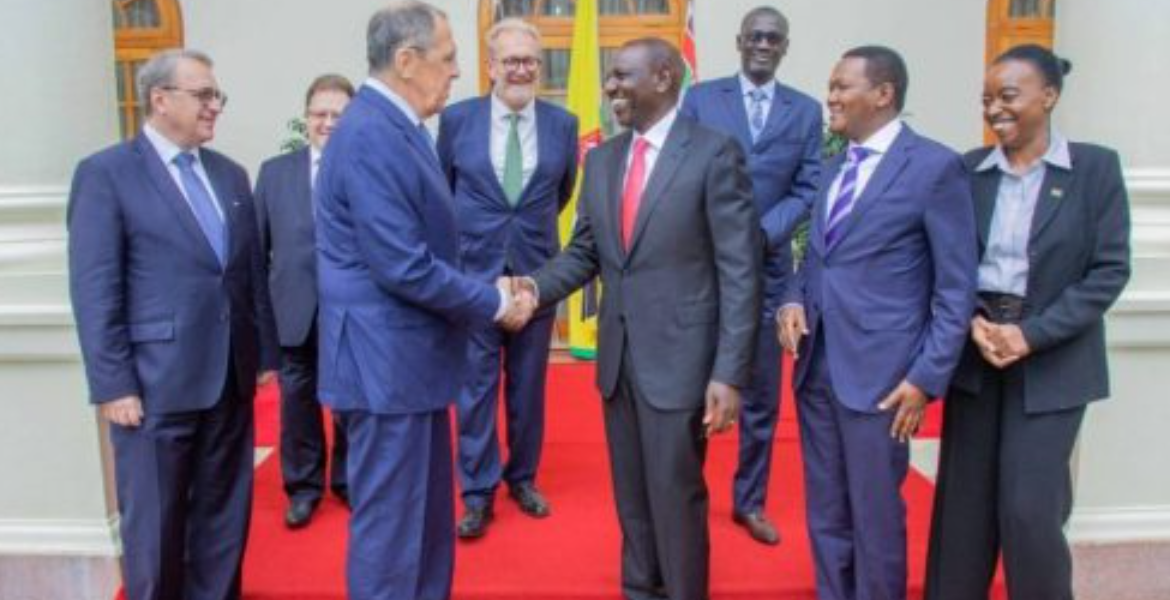 President William Ruto With Russian Foreign Minister Sergey Lavrov
Russian Minister for Foreign Affairs Sergey Lavrov, in a visit to National Assembly Speaker Mosses Wetangula, said that the Russian Government is exploring the possibility for Kenyans to travel to Russia without visas for business, medical treatment or study. 
He also reaffirmed his nation's commitment to supporting Kenya in a range of sectors. Accompanied by the Russian envoy to Kenya, Lavrov expressed his readiness to strengthen commerce with Kenya in a bid to stimulate the nation's economy. He further mentioned that Russia is intent on promoting tourism and farming in Kenya. 
Mr Lavrov urged the Kenyan government to draw up a trade agreement touching on their engagement with Russia and have it ratified by Parliament for implementation. The minister acknowledged Kenya's strong bond with Russia and disclosed that the number of scholarships for Kenyan students to study in Russia has doubled in a bid to accommodate more Kenyans interested in studying in Russian Universities. 
"Russia is working on introducing visa-free travel to enable Kenyans easily access our country for either trade, medical services or education among others," he said. 
Additionally, talks between President William Ruto and Foreign Minister Lavrov at the State House resulted in a mutual agreement to deepen ties between the countries and bolster trade dealings. Kenya's head of state remarked that commerce between Kenya and Russia has not achieved its full potential, however, he exuded hope that the duo will sign a trade agreement that would benefit Kenya's industries. 
He and his Russian counterpart also concurred on the need to modernise the United Nations Security Council to better serve today's world. Ruto suggested that Africa should be granted a seat on the UN's top decision-making body.
"The continent can bring to the table rich ideas, suggestions and experiences that would serve the globe well," he explained.