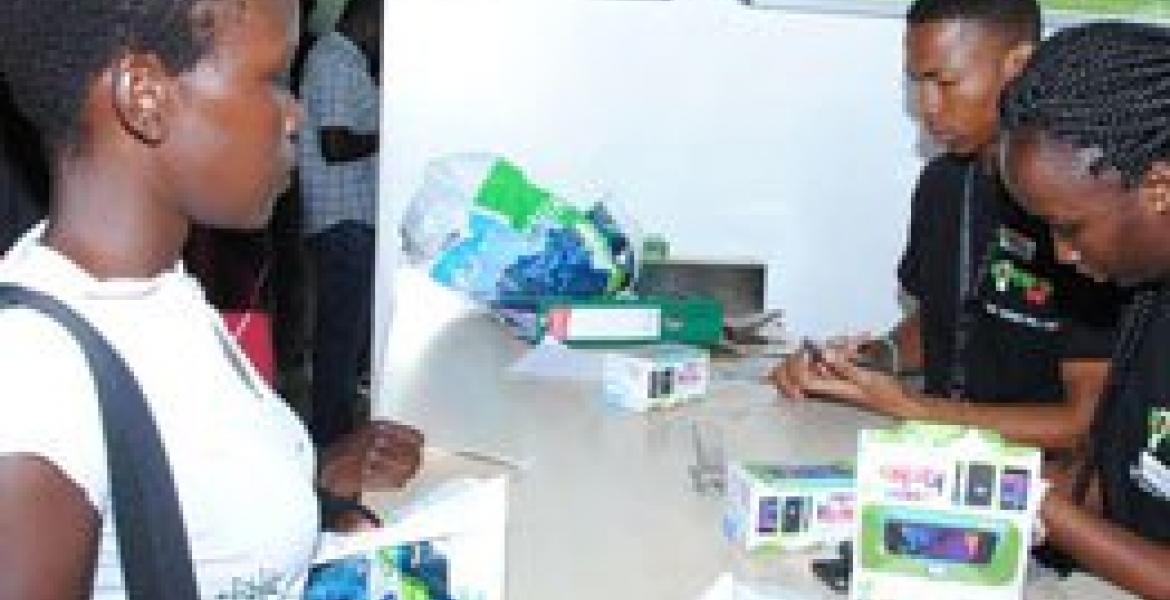 The insurgence of con artists disguising as agents of Kenya giant telephone service provider Safaricom have left many Kenyans crying after falling prey to the 'agents' who will convince you to select a card, scratch it and win prizes such as money, phones, laptops among others.
Before you realize it, the agents of a 'Safaricom promotion' will hand you a fake phone or laptop, but not before you part away with some 'little cash' which will depend on the nature of prize you won yourself after scratching the 'lucky card.'
Safaricom has on several occasions, through their social media accounts denied links to such promotions and have warned Kenyans against falling victims to the cons.
Naomi Susy narrates how she was deceived into innocently surrendering Sh 6,000 to the fake agents two weeks ago, and despite reporting the incident at Central Police Station in Nairobi under OB number 49/17/06/17 no action has been taken yet.
"It was around 7:30am," Susy recalled. "I was intercepted by several ladies at Tuskys, near Co-operative House...They had some cards that had a provision for scratching. I ignored them and walked down the street, in a hurry to catch my matatu. The last lady managed to convince me to participate in the 'free Safaricom promotion," Naomi is as saying quoted on the Nation.
She says that she won herself two phones and a laptop after scratching the lucky card, but the lady asked to accompanies her to a car parked nearby, so she could receive her prizes. "Around that car seemed to be a lot of activity. The lady asked me to give her my ID and the scratched card," Susy said.
On arriving at the car, she was told that she only needed to part away with Sh 6,000 only to be given the three gifts she'd won, Sh 6,000 sounds little for two phone and a laptop, right?
"They accompanied me to the bank and I withdrew the money and gave it to them," Ms Susy recalled. "I believe they drugged me because I lost my senses.
"After giving them the money, they asked me if I preferred the laptop or cash. I said Sh78,000 in cash. The catch was, I could only get it if I gave them Sh26,000, which would be reimbursed. In total, I would get Sh104,000.
"At this point, I realized that I had been conned. I requested to be given back my cash but somebody who said he was the supervisor told me, after insisting, that I could go to their head office for reimbursement"
"He gave me a phone, an MIN-X, which I understand is not authorized by the communication authority and is worth Sh500, if not less," she said.
Susy then approached a traffic police officer at the Railways roundabout and shared the ordeal with her, but she would direct her to Central Police Station to report the matter but the agents told her they were protected by the police and could not be arrested.
"More than 30 people came from the surrounding and wanted to take my phone. They said they were being protected by the police and there was nothing I could do to them," she said.
Another Kenyan, James Kutoto said he lost Sh38,000, in the similar way to Suzy's incident.  "They tell you, you have won three phones and a laptop. They then tell you that you can choose either a laptop or Sh78,000."
"Of course anyone would choose the latter. But there is a catch: you must pay Sh6,000 'warranty' for the phones," Another Kenyan, Joel Kioko narrated.
He continued, "Many unsuspecting people usually don't have that Sh6,000 on the spot and so withdraw it from the ATM or through M-Pesa. I mean, who wouldn't consider the money being won?
"It doesn't end there: If you pay the Sh6,000 they then tell you to pay an extra Sh18,000 as security for laptops."
"If you choose it, they ask you for your phone and run a few commands and a message appears saying your password is, say, 674246 and it's valid for 48 hours and that you present it at any of their care centres."
"They tell you that in about three hours, the money will be credited to your M-Pesa account and that you need to present that password in order to withdraw your money."
"What you don't know is that they have dialed *126*3*5#, a Safaricom command for redeeming Bonga points for free phones and accessories."Mr Kioko said.
Nairobi Police Commander Japheth Koome denied receiving reports of the conmen, adding that Kenyans do not report such cases, making it hard to arrest them. "It is difficult to crack down on an issue when no one has complained. It would constitute harassment," Koome said.