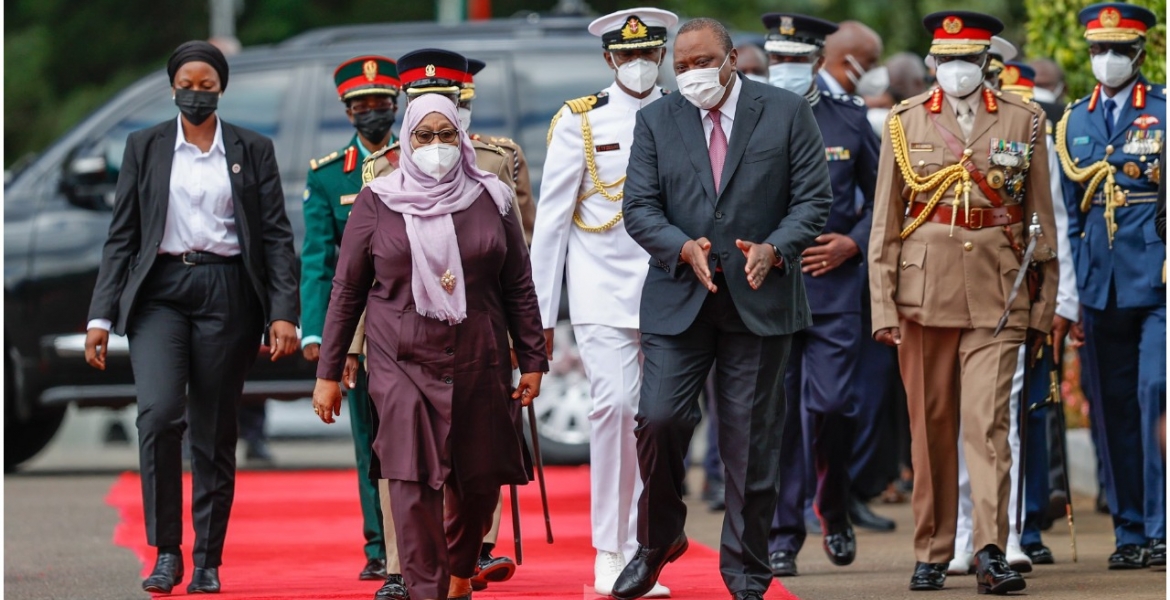 Tanzania President Samia Suluhu Hassan has kicked off her two-day official State visit to Kenya.
A plane carrying Suluhu and her delegation landed at the Jomo Kenyatta International Airport (JKIA) at 9.40 am on Tuesday.
She was received at the airport by Foreign Affairs Cabinet Secretary Rachael Omamo, her Sports counterpart Amina Mohamed and other government officials.
President Suluhu then proceeded to State House, Nairobi where she inspected a guard of honor and received a 21-gun salute.
During the visit, President Suluhu is expected to hold bilateral talks with President Kenyatta with an aim of strengthening ties between the two nations.
On Tuesday evening, President Kenyatta and First Lady Margret will hold an official State dinner in her honor.
On Wednesday, Suluhu will address a joint sitting of Parliament at 2.30 pm at the National Assembly Chamber.
In a joint gazette notice the Speakers of Senate and National Assembly said, "Notice is hereby given to all members of the National Assembly and all Senators that pursuant to the standing orders, the two speakers after consultation have arranged for a joint sitting of Parliament to be addressed President Samia Suluhu."
Kenya is the largest investor in Tanzania while Tanzanian exports to Kenya have been rising in the past decade.
In 2019, Kenya imported goods worth Sh29 billion from Tanzania and exported goods worth Sh35.4 billion to her neighbor, according to the UN Comtrade Database.
The two nations are members of the East African Community (EAC), which is currently chaired by President Kenyatta.
Suluhu was sworn in as Tanzania's sixth and the first-ever female president following the death of her predecessor John Pombe Magufuli in March this year.