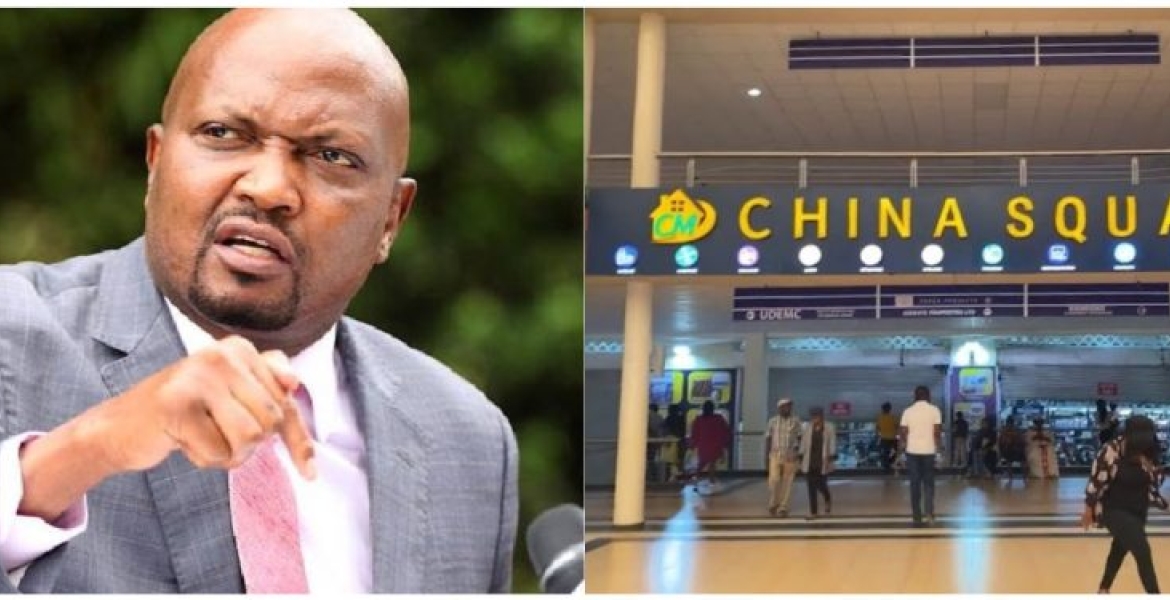 Trade Cabinet Secretary Moses Kuria has continued with his onslaught on China Square, which resumed operations on Monday after engagements between the Kenyan government and the Chinese community in Kenya.
Kuria described the Chinese-owned supermarket as a middle-class conspiracy that does not favor low-income earners, commonly referred to as Hustlers.
Appearing before National Assembly's Trade, Industry and Cooperatives Committee on Wednesday, Kuria denied allegations of frustrating Chinese investors, saying he is only trying to prevent the country from turning into a dumping ground for sub-standard goods.
"Yesterday, they counted 2000 vehicles. This is a middle class conspiracy and it has nothing to do with the hustlers who hold the bulk of the economy," said Kuria.
"I cannot frustrate investors but some people are dumping (fake products) on us."
Kuria further announced that plans are underway to establish a "Kenya Square" in a bid to support local traders.
"We have not forced anyone to close their business. But I maintain we should not discourage our traders.  I have a duty to speak for the Nyamakima trader. The Middle class want to buy cheap. I continue supporting local manufacturing. We want to have our own Kenya Square," said Kuria.
Kuria was responding to members of the trade committee, who raised concerns about the long-term fate of China Square.
China Square, located at Unicity Mall on Thika Road, closed temporarily last week amid an uproar from local traders over low-priced goods.
The store opened on January 29th, offering a range of household items, from kitchenware to furniture and hardware. It quickly became popular but Kenyan traders claimed the retailer cut them out of the market by selling its goods at a deep discount.
Following the complaints, Kuria said he held talks with Kenyatta University, which owns Unicity Mall, about leasing the site to Kenyan small traders.
"We welcome Chinese investors to Kenya as manufacturers not traders," Kuria wrote on Twitter.
China Square owner Lei Cheng defended his business, insisting it was legal and "centered on healthy competition."
'We have cooperated with all government directives for opening a business in Kenya and we are here to break the monopoly. The people who are fighting us feel threatened because Kenyans now know we exist and we are not exploiting them in pricing," Cheng said.