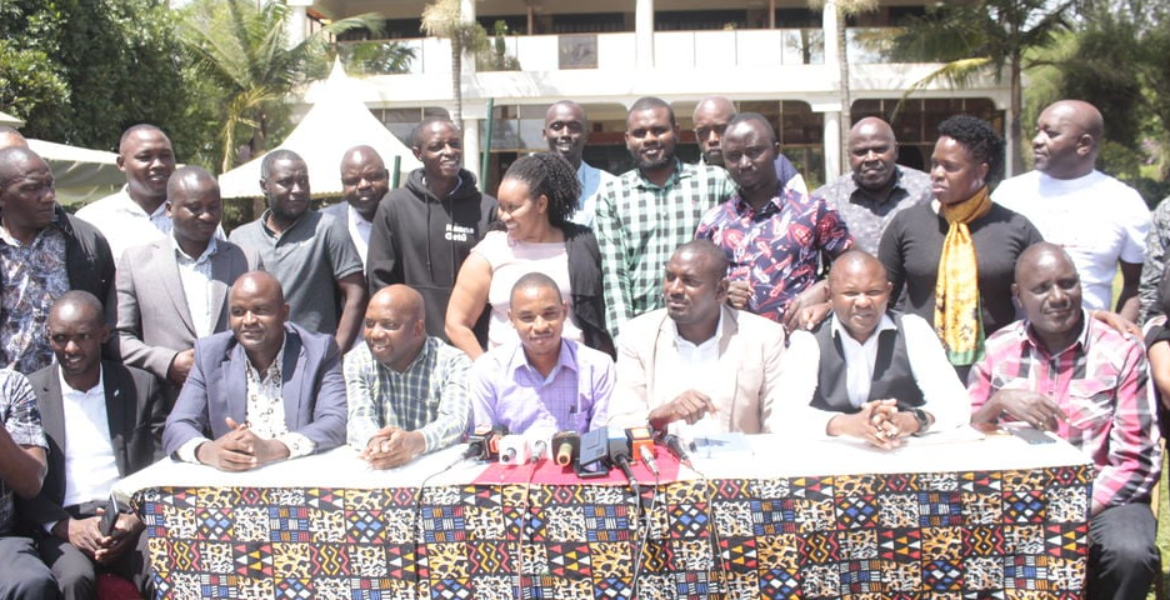 A Section of Meru MCA's During a Press Conference on Wednesday
Meru Governor Kawira Mwangaza can now breathe a sigh of relief after more than 40 MCAs blasted threats from some of their colleagues to start the impeachment process against the governor beginning next week.
Supported by Majority Leader Evans Mawira and Majority Whip Jim Muchui, the faction defending Mwangaza regarded such notions as individual opinions endorsed by scant members of the Meru County Assembly. This reaction followed a declaration by other MCAs driven by the Minority Leader Mwenda Ithili, who insisted on reviving the impeachment process. 
At a press gathering in Meru on Wednesday, the majority of MCAs blamed a section of Meru Mps for intervening in county politics, leading to the ongoing standoff. Last week, the members of the executive expressed their frustration towards the deputy governor after he failed to respond to reports that his vehicle was withdrawn, hence giving credence to the allegations. The Majority Whip said their support for the Governor remains intact and that they intend to focus on the county's development agenda. 
"After the impeachment, Members of the County Assembly agreed to consult with the governor regularly when issues arise. The position of the majority is that our support for Governor Kawira Mwangaza remains intact. Our focus now is to see development across the county," Mr Muchui said.
Majority Leader  Evans Mawira called on elected leaders to grant the governor a chance to deliver. He said they have not found any comprehensible justification to impeach the governor. Mr Mawira warned his colleagues pushing for Mwangaza's removal to calm down and focus on carrying out their obligations to citizens. He added that the alleged fallout between the governor and her deputy was pure politics. 
"The county secretary has been in office for very few days to be impeached, " Mr Mawira said.