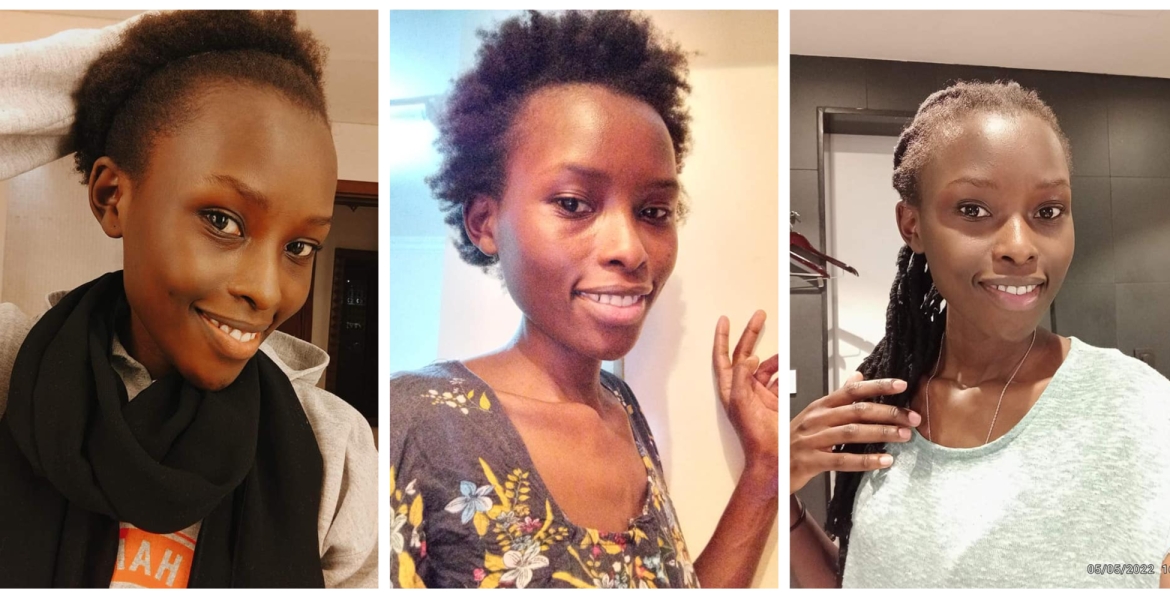 A Kenyan family is appealing for assistance to bring back home their kin who is presently stranded in Saudi Arabia. 
This comes after photos of a frail-looking and sickly Diana Chepkemoi went viral on social media, with Kenyans calling for her rescue.
Her sister Lorrain Cheptoo told a local media that Diana, a student at Meru University, is being held by her Saudi employer against her will.
Diana, 21, traveled to the Gulf state last year in search of greener pastures after deferring her studies at Meru University due to financial problems.
"Diana is the second-born in our family, she was pursuing food science and management before she deferred her studies because of financial issues. She looked for ways to make a living until mid-last year she got an opportunity to travel to Saudi Arabia as a domestic worker," Lorrain said.
Lorrain says all was well with her sibling until mid-July when she suddenly went silent and stopped communicating with her family back home.
"We had occasional video calls and she seemed healthy until mid-July, Diana became unreachable on WhatsApp for a week, I reached out to her on another platform, she was reluctant and distant, almost scared. Eventually she disclosed that her boss had confiscated her phone and documents," Lorrain added.
Soon after, Diana reportedly fell ill and efforts to get medical attention have been in vain due to frustrations by her employer.
 
"You could tell something was clearly wrong, she said the boss was mistreating her, she was ill, couldn't access hospital and her health was deteriorating quickly. The boss would only give her pain killers," she said.
Lorrain says her sister has been under surveillance and reaching her through phone has become difficult.
"We tried to talk to the boss and he said Diana is yet to complete her working days as per the contract she signed and is now holding her hostage. Once you see those photos circulating online, you will agree that my sister needs all the help she can get immediately, I am scared she might not make it home alive."
Susan Makungu, the agent who facilitated Diana's travel and employment in Saudi Arabia, admitted that she is sick and promised to pay her flight ticket back home.
"Diana came to my office one and a half years ago; she had been working as domestic worker in Kenya and was looking for greener pastures. She loved working there, I deal with lots of girls, you can't force anyone to work if they don't want to work. Diana told me she is sick and has lost a lot of weight, and I made plans with our partners in Saudi Arabia," she said.
"Diana's case is taking long because I am told she works for a high-profile individual and the authority there are scared to access the home. I am ready to pay the air ticket, I am waiting for foreign affairs and the Kenyan embassy to go to the house and give her an exit. She is not lying she is speaking the truth, she is sick and they are mistreating her."