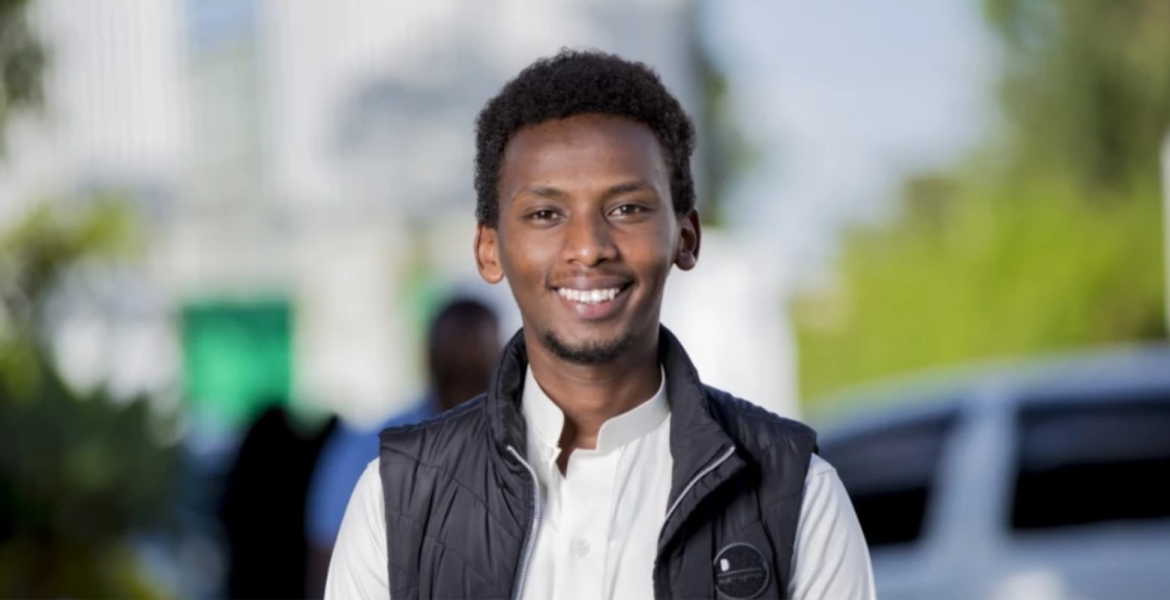 US-based Kenyan journalist Idris Muktar Ibrahim has narrated how two posts he shared on Twitter in 2014 came back to haunt him nearly 10 years later.
Muktar, 24, worked as a producer with CNN International, based in the network's headquarters in Atlanta, Georgia, until last month when he lost his dream job over the two tweets he posted when he was 15 years old.
In a piece published on Saturday Nation, the journalist shares how he grew from a young boy in Nairobi's Korogocho slums to living his dream life in the US.
Muktar, a graduate of the United States International University – Africa, says a reporter he met on assignment in their slum inspired him to become a journalist.
In 2020, he joined Deutsche Welle (DW) as a junior correspondent for East Africa before securing a scholarship to pursue a Journalism and Documentary Master's program at the University of California, Berkeley.
When he graduated in May this year, he was offered a job by CNN as Newsdesk Producer on the network's international desk. By this time, he was a Mastercard and Human Rights Center fellow, and a recipient of the Foreign Correspondent Award.
All was well until a story he contributed to about the Israeli elections prompted a pro-Israeli media watchdog Honest Reporting to open an investigation against him.
"They dug deep into my tweets from when I was still a teen in the slums in July 2014 and found two that were, in my opinion, wholly abhorrent and unacceptable," says Muktar.
In one of the tweets unearthed by the organization, Muktar supported the German football club Bayern Munich, and appeared to be in support of Adolf Hitler.
"I have shifted to team Germany after finding out that Messi supports Israel #teamHitler," reads the tweet posted on July 13th, 2014. "Modern day freedpm [sic] fighters, they definding [sic] their land. Yes they are entitled to their armed struggle," he said in the second tweet.
Muktar says the organization contacted his employer, calling for his firing and the giant broadcaster complied. It also reached out to various outlets to retract the awards they had given him.
"I don't blame my former employer, to be honest. As the world's leading news network, they cannot have someone in their employment tweeting vile bigotry," he says.
"A decade later, I was reduced to a tweet and labeled an anti-Semite and supporter of the terrorist organisation, Hamas; terms that I only wrote about in my pieces or while producing a television package for the international broadcaster," he adds.
The journalist says the tweets were just a product of his support for Bayern Munich, laced with ignorance, adding that he does not in any way dislike Israel, Jews, or support anti-Semitism.
"Like many Africans, I was not exposed to historical facts such as the Holocaust. Growing up in a post-colonial Kenya, where my grandparents and their families went through horrible crimes from the colonialism masters, and where marginalisation and incessant genocidal-style massacres were still rife, we were so busy entangled in our struggles and freedom."
"Still, I would have never condoned such historical facts as what happened to the Jews. Grappling with the rise of social media, we tweeted in ignorance, yet had I been appropriately exposed, I would have never tweeted such things," he adds.
Muktar says he regrets writing the "hurtful and ignorant" tweets and apologizes to the Jewish Community.
"I was young, new to social media, and blurted out inconsiderately. I am not a hateful person and I have learnt and evolved a lot since that time."
"Many journalists like me today have been cancelled because of an old tweet or something they said before. Aren't we all human beings subject to evolving and changing opinions? Isn't Cancel Culture an attempt to shut all of us, curtailing the progress made on free speech?" he poses.