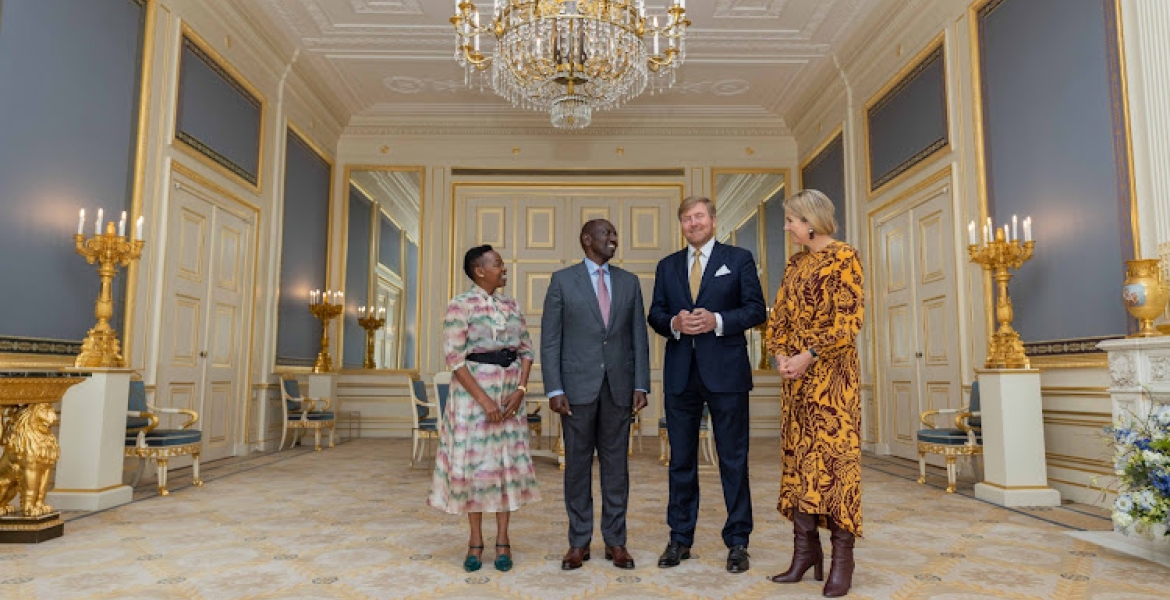 President Ruto and First Lady Rachel Ruto Meet King Willem-Alexander and Queen Máxima of The Netherlands
President William Ruto on Monday paid a visit to the Dutch city of Hague, where the International Criminal Court headquarters patches itself. 
Ruto made such a visit in 2013 as the Deputy President of Kenya. Dr Ruto was facing criminal charges linking him to the 2007 post-election violence. The case also charged former radio presenter Joshua Arap Sang. In 2016, the court dropped the case due to a lack of evidence. 
Nearly a decade after ICC dropped the case, Dr Ruto has returned to the city in a 2-day State visit as the President. He cruised in a presidential motorcade fringed with outriders as he left the Kenyan Embassy for an official meeting with King Willem-Alexander and Queen Máxima of the Netherlands at Noordeinde Palace.
In the meeting, Ruto exalted the relations between Kenya and Netherlands. The 2 leaders agreed to reinforce ties between the countries for cumulative mutual benefit. Their area of focus includes tea, coffee, horticulture, vegetables, fruits, fish and tobacco. 
Ruto highlighted the climate change crisis that continues to hold countries captive. His insistent push for a joint partnership in addressing the climate change problem borrows from the theme of Kenya's agenda for green growth and wildlife conservation.   
King Willem promised that the Netherlands will support Kenya in health, infrastructure and agricultural research, especially in arid and semi-arid lands.