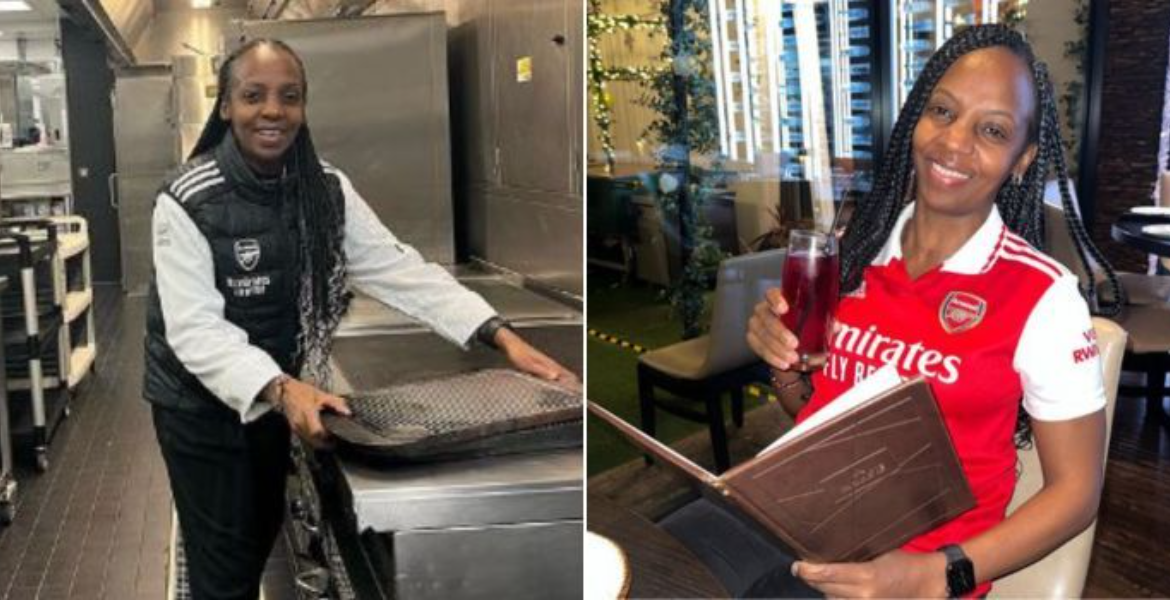 Former Arsenal Chef Bernice Kariuki
On Monday, May 29, Chef Bernice Kariuki announced her resignation from the first-team chef role after two years of service. 
In a statement, she commended the 2022/2023 season as the best since Arsenal's Invincible era. She did not disclose her next destination but was thankful for being able to serve as a first-team chef and congratulated the team for ending the season with a 5-0 victory against Wolves at Emirates Stadium. Kariuki expressed her appreciation for Kenya's long-standing support of her during her stint at Arsenal Football Club. 
"A final day flourish! Finished the season with a bang. Simply the best! Arsenal, Arsenal, Arsenal. The 2022/2023 campaign was the best special season ever I hang my gloves as a very proud chef. It has been an honour working for the best club in the world. I was truly humbled," she stated. 
Before joining Arsenal, she acquired considerable experience in the hospitality sector, having been employed at high-end hotels such as the Dorchester Hotel and the Waldorf Hilton Hotel located in London. She was selected by Arsenal in 2021 and was tasked to provide meals to the first team at their London Colney facility. She attributed her good fortune in obtaining the highly rewarding chance to a fortunate encounter with the ex-Arsenal captain and current Chelsea player, Pierre-Emerick Aubameyang. 
At the time of landing the deal, she was featured in the culinary team that cooked for an event at which Aubameyang was present. She presented a unique pilau dish that captivated the footballer, who wished to meet the chef who had prepared it. Aubameyang would later assist her in getting the job.
Kariuki devoted long hours each day to her job, putting in 90 hours per week and often beginning her workday before dawn due to the Arsenal players' 4:00 am activities. She meticulously planned their meals, making sure they were served in the proper manner. She noted that they usually had fish like salmon or seabass along with green beans, plantains and wild rice.
"We do their shakes because the players arrive on the pitch by 4:00 am and do their running. Afterwards, they have their omelette and some avocado, have a chilling time and begin their sessions at 11:00 am, so the money they're paid is worth it."