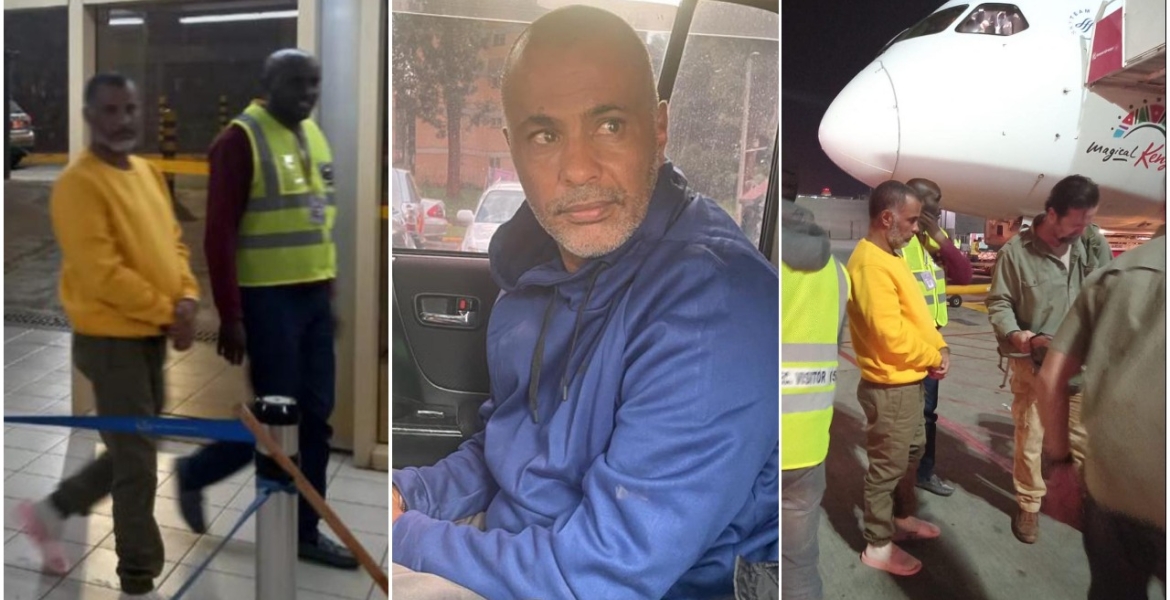 Kenyan fugitive Badru Abdul Aziz Saleh has been extradited to the United States to face charges of trafficking in narcotics and wildlife.
The 64-year-old suspect was extradited to the US on Thursday night aboard a Kenya Airways (KQ) flight destined to New York, according to the Directorate of Criminal Investigations (DCI).
His extradition follows his arrest by DCI detectives on May 31st after a cash reward of $1,000,000 (Sh118 million) was offered by the US government for information regarding his whereabouts. A similar monetary reward of $1 million was also placed on the head of a second suspect identified as Abdi Hussein Ahmed, who is still at large.
Saleh and Ahmed are said to be part of an international organized criminal network that trafficked wildlife and sought to traffic illicit drugs to the US. 
The two are accused of conspiring to smuggle at least 190 kilos of rhino horns and 10 tonnes of ivory from different countries in Africa including Kenya, Uganda, the Democratic Republic of the Congo, Guinea, Mozambique, Senegal, and Tanzania.
"Ahmed has been charged in the United States with wildlife trafficking in violation of the Lacey Act and with conspiracy to commit wildlife trafficking in violation of the Endangered Species Act and Lacey Act," the US Department of State said in a statement.
"Ahmed and Saleh have been charged in the US with conspiracy to distribute heroin. Additionally, Ahmed is charged in Uganda and Kenya with violations of the Uganda Wildlife Act, the Kenya Wildlife Conservation and Management Act, and the Kenya East Africa Customs Act."
Their other accomplices Moazu Kromah, a Liberian national aged 52, 57-year-old Amara Cherif (Guinean), and 62-year-old Mansur Surur (Kenyan) pleaded guilty before a New York court on March 30th, April 27th and June 1st respectively.
Cumulatively, the suspects are said to have conspired to smuggle and sell 190 kilograms of rhino horns and at least 10 tons of elephant ivory valued at $7.4 million (over Sh800 million). Their actions led to the illegal poaching of over 35 rhinos and more than 100 elephants.