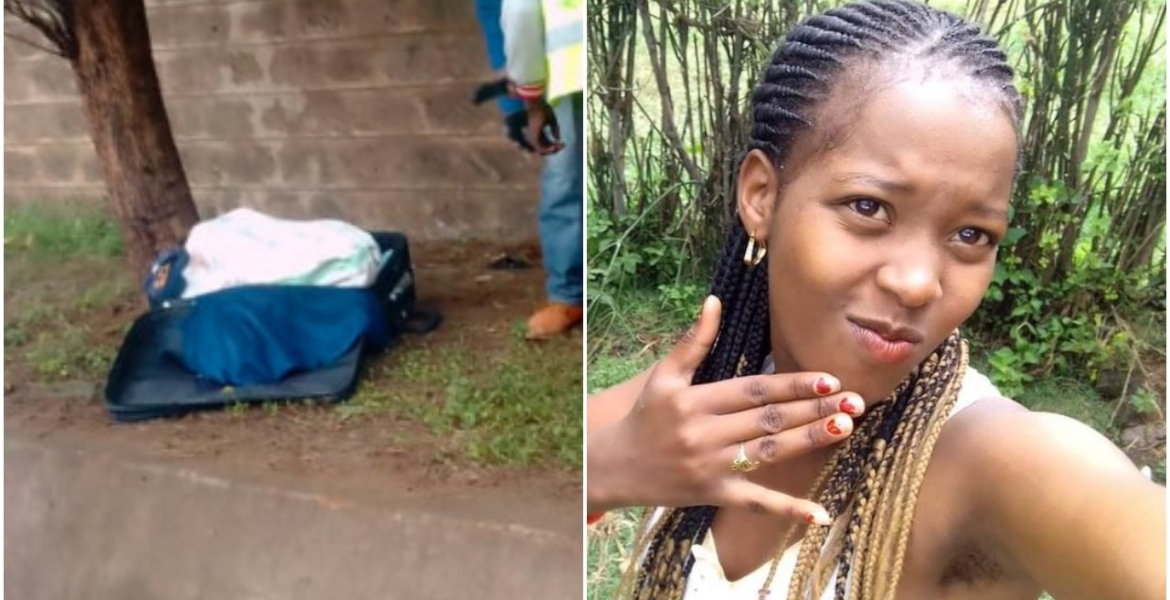 The identity of a Kenyan woman whose body was found dumped outside the GSU Recce Company headquarters in Ruiru has been revealed. 
Detectives investigating the murder identified the lady as 18-year-old Esther Wambui, who worked as a waitress at a restaurant in Ruiru.
Her body, which had been stashed in a sack and put in a black suitcase with her hands tied from behind, was dumped along the perimeter wall of the highly-guarded GSU Recce headquarters in Ruiru's Kimbo area.
Ruiru DCIO Justus Ombati says a nylon paper was tied around Wambui's neck, and she had a deep cut in her left breast and appeared to have been raped. 
The killers also used ink to inscribe on her palms, chest, and thighs with the words: "Bwana ya Mtu ni Sumu."
"She died a painful death and we are piecing together her last moments, and as we speak the husband is a person of interest. It is a complex matter but what I can say is that we are moving well with investigations,'' Ombati told Nation.
Her husband Simon Ngigi has since recorded a statement in which he gave an account of his last moments with his wife. The 23-year-old says he escorted Wambui to work at around 5.40 am on Monday as it was a normal routine for him due to the insecurity in the area.
Ngigi told police that he suspected something was wrong when his wife failed to return home that night, but investigators have questioned why he did not bother to report the matter to the police or call her workmates to inform them that she was missing.
Wambui is said to have dropped out of Kianjogu Secondary School in Nakuru and left home without notice. She later met Ngigi, a casual laborer in Ruiru, and remained jobless until recently when she landed a job at a restaurant in the town, earning Sh300 daily.
The two got married seven months ago and Ngigi contacted Wambui's father Samuel Mbugua to inform him that he had married his daughter.
"When he told me that, I told him that they had my blessings and that I did not have any problem with their union,'' Mbugua told Nation.
CCTV footage retrieved from Wambui's workplace shows that she left for home at 8.30 pm on Sunday before she was discovered dead at 5:30 am the following day. Ngigi did not pick her up from work as usual that day.
Ngigi, who was described as a jealous husband by Wambui's co-workers, denies claims that they had marital problems. 
"We have never quarreled and I have never suspected her of anything. I loved her so much. I miss her," he told Nation at Ruiru police station.