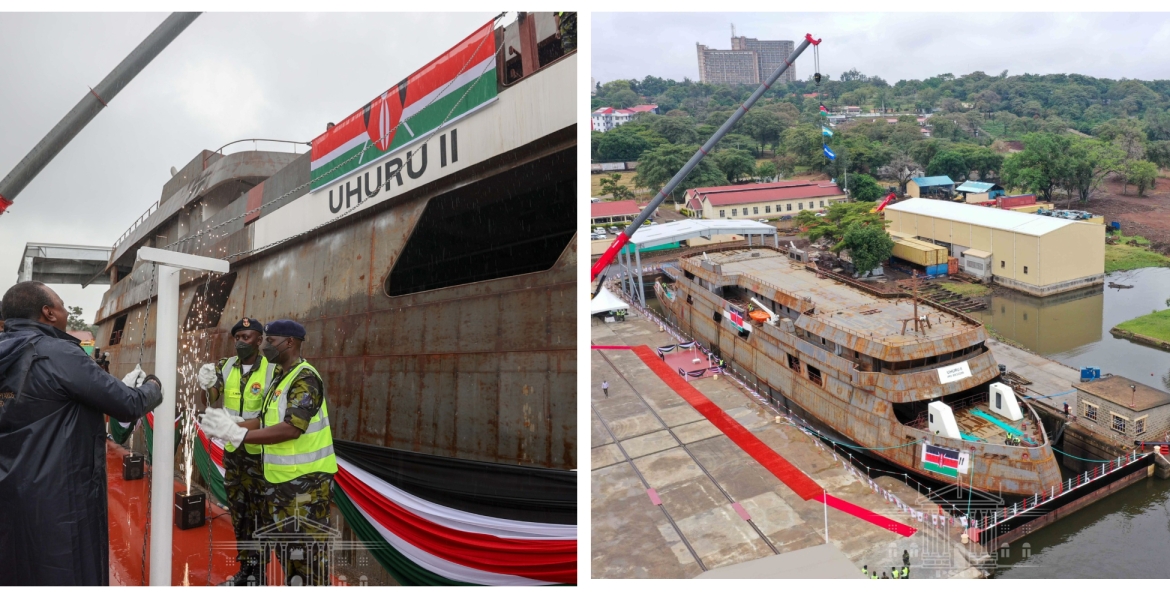 President Kenyatta on Tuesday witnessed the floatation of the new MV Uhuru II ferry wagon, the first ship to be made in Kenya by Kenyans.
The 100-meter vessel with a capacity of carrying up to 22 wagons and an estimated capacity of two million litres of crude oil per trip was constructed by Kenyan shipbuilding experts and engineers with the support of consultants from the Damen Gorinchem, a Dutch shipbuilding and engineering company.
"It is gratifying to note that during these works, young Kenyans have been empowered through the acquisition of critical skills in shipbuilding," Kenyatta said, adding that Kenya has become a pioneer shipbuilding nation in Africa.
"Indeed, mainstreaming of the youth into the national economic agenda has been a key plank of my administration's development plan as envisaged in the Vision 2030 and the 'Big 4' Agenda."
The president also welcomed the operationalization of Kisumu Shipyard, saying the facility will create business and job opportunities for thousands of young people in the country.
He noted that the facility, under the Kenya Shipyards Limited, will encourage the growth of primary and ancillary manufacturing industries in addition to improving transport and safety in the lake, enhance intermodal transport as well as boost fishing, tourism and other economic activities in the Eastern Africa region.
"The Kenya Shipyards Limited's role in the development of the Blue Economy is set to attract foreign direct investments and drive domestic direct investments in the long run. Its catalytic effect will trigger growth of ancillary and support industries and businesses that will all have a cascading effect across the whole of the national economy," President Uhuru added.