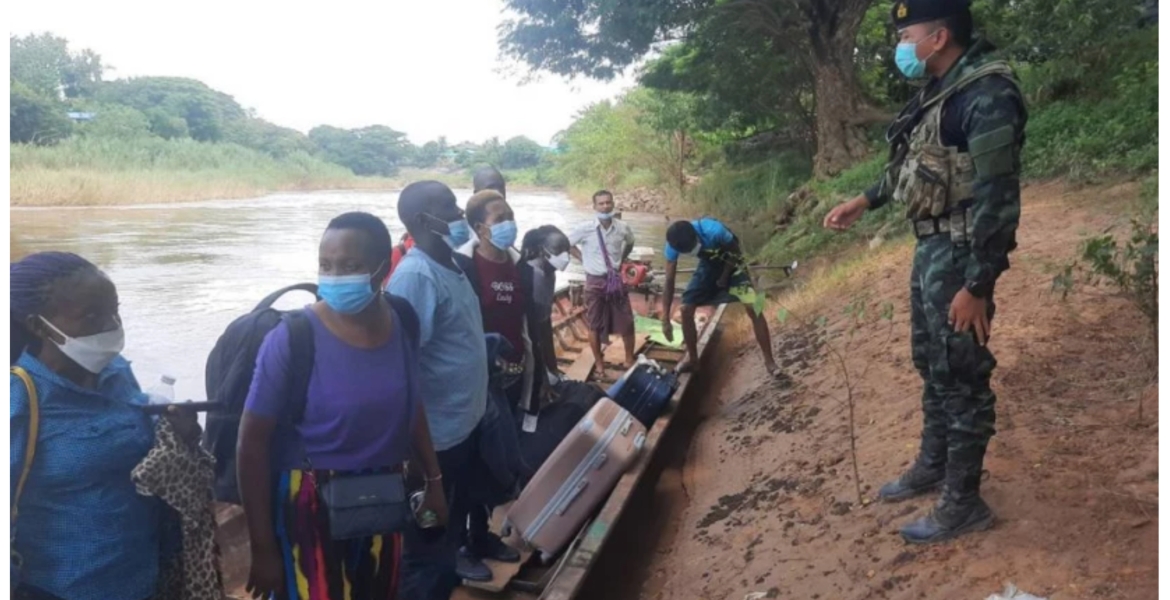 22 Kenyan nationals have been rescued from human trafficking cartels in Laos, a country in Southeast Asia.
The Ministry of Foreign Affairs said the 22 were rescued alongside a Ugandan and Burundian following a joint effort between Kenya, Laos and the International Organization for Migration (IOM). 
"It is now emerging that there could be hundreds of mostly young Kenyans working in 'fraud factories' in South East Asia," the ministry said in a statement on Friday.
"The 24 East Africans (22 Kenyans, 1 Burundian and 1 Ugandan) have since returned home with the help of HAART Kenya and the IOM Lao PDR."
It is suspected that some of the factories where the victims were rescued could be facilities for extracting and storing human organs. The cartels lure young people under the guise of well-paying jobs.
"They have established local networks and gangs that help them either lure the victims or transport them through various countries in the region. This new breed includes young and techno-savvy individuals, well-educated, computer literate, and multilingual. Others are offered training in computer applications for ten days before commencing 'work,'" the ministry stated.
One of the people rescued was reportedly promised a salary of $2,000 (Sh241,000) a month, but cautioned that if one does not meet the expectations then they will be required to refund $15,000 (Sh1.8 million) as compensation for 'damages' to the employer or are tortured, the ministry said.
"The Kenyans, like hundreds of other foreigners from the region, South Asia and Africa, are lured by irresistible adverts promising lucrative perks and easy workloads. Once 'work' commences, those who fail to meet the performance targets are tortured, whipped or locked up in dark rooms alone for days on without food," stated the ministry.
"The lazy or sick ones are either sold to third parties or they are kicked out without any money or passports. Those who want to go away must cough up to $15,000 as compensation for the expenses the cartels used to traffic the victims."
The government has warned Kenyans against falling prey to such individuals who entice them with promises of lucrative jobs in South Asia countries without authenticating the credibility of jobs.
"The government once again, warns Kenyans to stop applying for online jobs that are advertised in South East Asia without authenticating them, as this exposes them to dangers including the possibility of losing body organs," the ministry noted.
The ministry said a majority of the Kenyans are lured to travel to Thailand or Malaysia on tourist visas before they are trafficked across the border to the 'fraud factories' once they have landed."
"There are no sales and customer care jobs in Thailand or other countries in the ASEAN region," the ministry said.