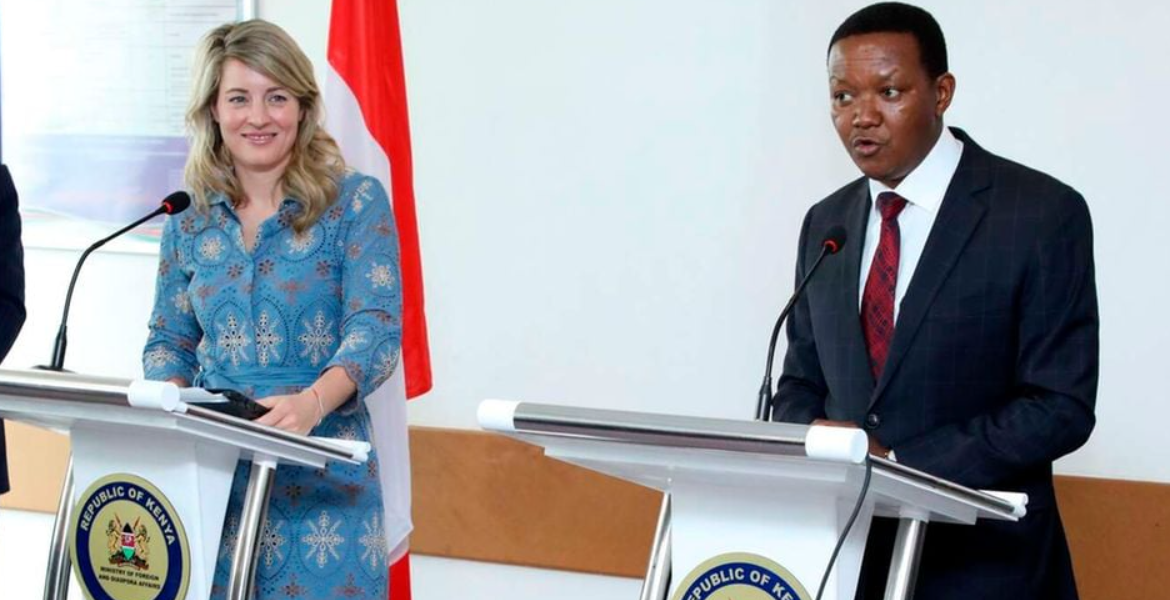 Foreign Affairs Cabinet Secretary Alfred Mutua With His Canadian Counterpart Melanie Joly
Kenyan senior public officials are learning, on a weekly basis, how detrimental mistakes in their speeches are. 
In a way, this is attributed to the pressure to deliver their mandate. This week, the Foreign and Diaspora Affairs Ministry had to disown an 'invade-Sudan' remark by the Cabinet Secretary for Investments, Trade and Industry, Moses Kuria. In a statement on Sunday, Mr Kuria suggested bombing Khartoum if Sudan's warring generals fail to establish a truce. 
Known for his outbursts, Mr Kuria's tweet proposed that the World must address militarily the crisis in Sudan in which the Sudan Armed Forces (SAF) and the Rapid Support Forces (RSF) have refuted ceasefire agreements since April 15. He said that military invasion is the surest way of dealing with armies overthrowing governments and that the African Union (AU) should not hesitate to bomb Sudan to smithereens.  
"The community of nations should militarily invade any country where armies overthrow the government. Appeasement does not pay off," he said. 
Dr Korir Sing'oei, the Principal Secretary for Foreign Affairs distanced Government's outlook from Moses Kuria's sentiments, saying that the tweet did not reflect Government's view on the matter. Kuria's outburst came at a time when President Ruto had expressed interest in pushing for mediation and backing peace missions in the region. 
"The personal views expressed by Moses Kuria do not represent government policy on this complex and challenging issue. We continue to work with all parties towards a peaceful resolution of the Sudan Crisis," said Dr Korir Sing'oei. 
In February, the two differed over the China Square controversy after CS Kuria initiated its closure stating that investors are only allowed to operate in the country as manufacturers and not as traders. Dr Sing'oei contradicted Kuria's statement stating that Kenya's investment regime is non-discriminatory.  
Also, Foreign Affairs Cabinet Secretary Dr Alfred Mutua made a similar misstep on Wednesday when he talked about his negotiations with Canadian officials to provide more opportunities for Kenyans willing to work abroad. The Canadian government would later warn Kenyans to be wary of non-existent jobs in the country. 
Last month, Agriculture CS Mithika Linturi was caught in a similar gaffe when he claimed that the state had partnered with Zambian farmers to help produce maize for the country. Zambian authorities denied such knowledge.