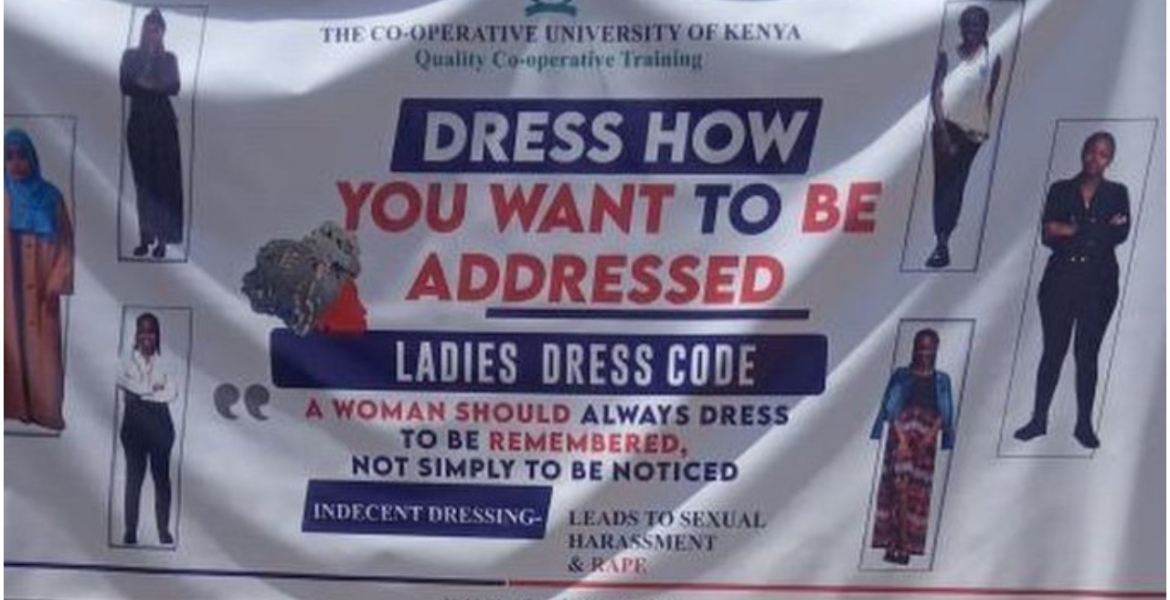 The Co-operative University of Kenya has apologized over a banner linking rape to indecent dressing.
This comes after a picture of the poster that was displayed at the institution's main gate went viral on social media, sparking massive uproar.
The advert shows what is considered a 'decent' dress code with pictures of various women wearing such outfits.  It also featured messages suggesting that the type of clothing a woman puts on may lead to them being sexually assaulted.
"Dress how you want to be addressed. A woman should always dress to be remembered not simply to be noticed," it states.
It adds: "Indecent dressing leads to sexual harassment and rape."
Following the online backlash, the university issued an apology, saying the banner was made and displayed by students without approval from the university management.
"Our attention has been drawn to pictures of a banner circulating on various social media platforms on Thursday, November 25th, 2021 bearing a message about a campaign being organized by the Student Governing Council (SGC) on student Dress Code," the university said in a statement.  
"The erroneous messaging portrayed by the banner is misleading and highly regrettable. We sincerely apologies for the miscommunication."
The banner bearing the erroneous message was put up without the approval of the University Management and it was brought down immediately it came to our attention. Appropriate action has also been taken to ensure that the same does not recur," said the institution.