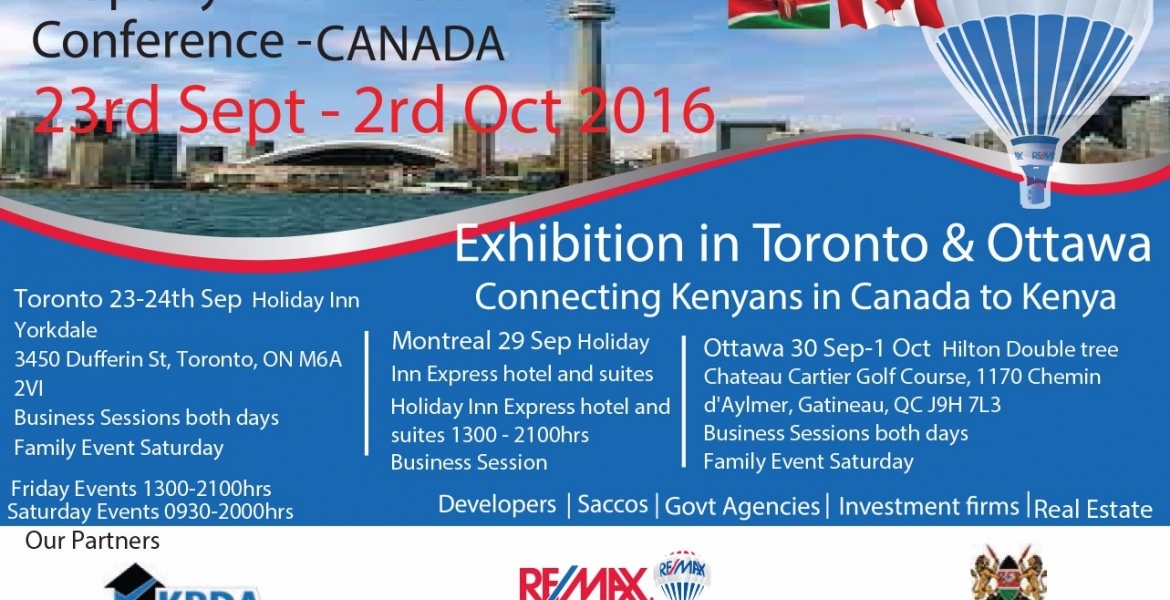 The second leg of the Diaspora Property & Investment Conference – Canada kicks off tomorrow, Thursday, September 29th in Montreal.
Top players in the Kenyan Real Estate sector including ReMax Kenya, KingsPride Properties Ltd, Golden Pearl Properties, Optiven Ltd, Ukulima Sacco, and National Housing Corporation (NHC) will in Montreal on Thursday, September 29th, where they will be exhibiting from 1pm to 8pm at Holiday Inn Express Hotel & Suites. Venue: 10888 Cote De Liesse, Montreal, Quebec H8T 1A6.
On Friday (September 30th) and Saturday (October 1st), the exhibitors will be in the city of Ottawa. Venue: Doubletree by Hilton Hotel Gatineau-Ottawa -  Chateau Cartier Golf Course, 1170 Chemin d'Aylmer, Gatineau, QC J9H 7L3.
The first leg of the tour kicked off in Toronto, Ontario last weekend where the exhibitors showcased to Kenyans living in the area the exciting investment opportunities available in Kenya.
See below details of the Montreal and Ottawa expos:
September 29th: Exhibition/Business Session in Montreal
September 30th: Exhibition/Business Session in Ottawa
October 1st: Family Event Exhibition in Ottawa
For further information please contact:
www.remaxheritagediaspora.co.ke