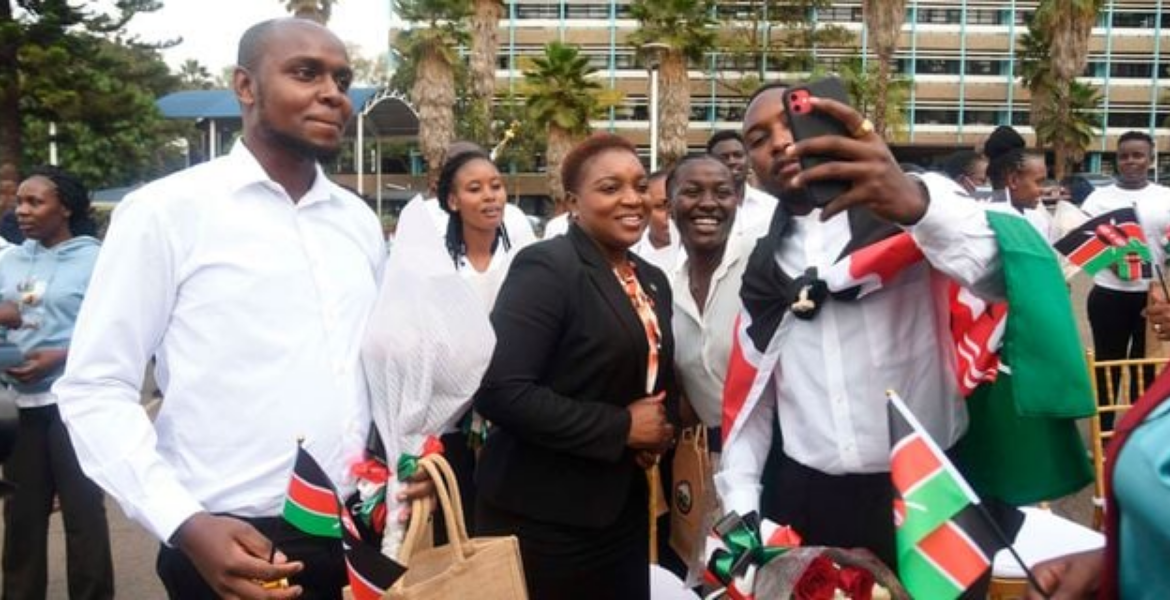 Health CS Susan Nakhumicha Poses for a Photograph With Nurses on August 21, 2023
On Monday, August 21, Health Cabinet Secretary Susan Nakhumicha announced the departure of 76 Kenyan nurses to work in the United Kingdom. 
On August 24, the selected group of nurses will depart from Kenya to work in the UK. This recruitment comes as part of the Bilateral Labour Agreement (BLA) signed by the two countries in July last year. Out of the 701 nurses who applied for the position, only 424 applicants met the necessary requirements for consideration.
On Tuesday, a status update on the recruitment process was given by the Nursing Council of Kenya (NCK) and the Ministry of Health. According to the report, 198 applicants did not undergo the necessary tests on International English Language Testing System (IELTS) or Occupational English Test (OET). 79 did not pass the IELTS tests, 200 did not appear for the Computer Based Testing (CBT), and 77 failed the CBT.
Just 77 of the 127 nurses who applied for jobs at the Royal Berkshire Hospital and Oxford University met the necessary criteria. Their applications have been forwarded to recruitment firms across the United Kingdom. A further 75 applicants matched the qualifications, but their information hasn't yet been submitted. Unfortunately, 36 nurses did not pass the interviews due to their inadequate experience. 
These nurses had either worked in hospitals with low bed capacity or were unable to satisfy the recruiting panel. Additionally, 10 nurses dropped out for personal reasons. On Monday, CS Nakhumicha emphasized the importance of nurses in our healthcare system, calling them the unsung heroes and pillars of our healthcare infrastructure.
"At the heart of every thriving healthcare system lies the dedication and expertise of our nurses, they are often the unsung heroes of our healthcare sector, yet the pillars of our healthcare infrastructure. The contributions of our nurses to the well-being of our society are truly invaluable," CS Nakhumicha said.