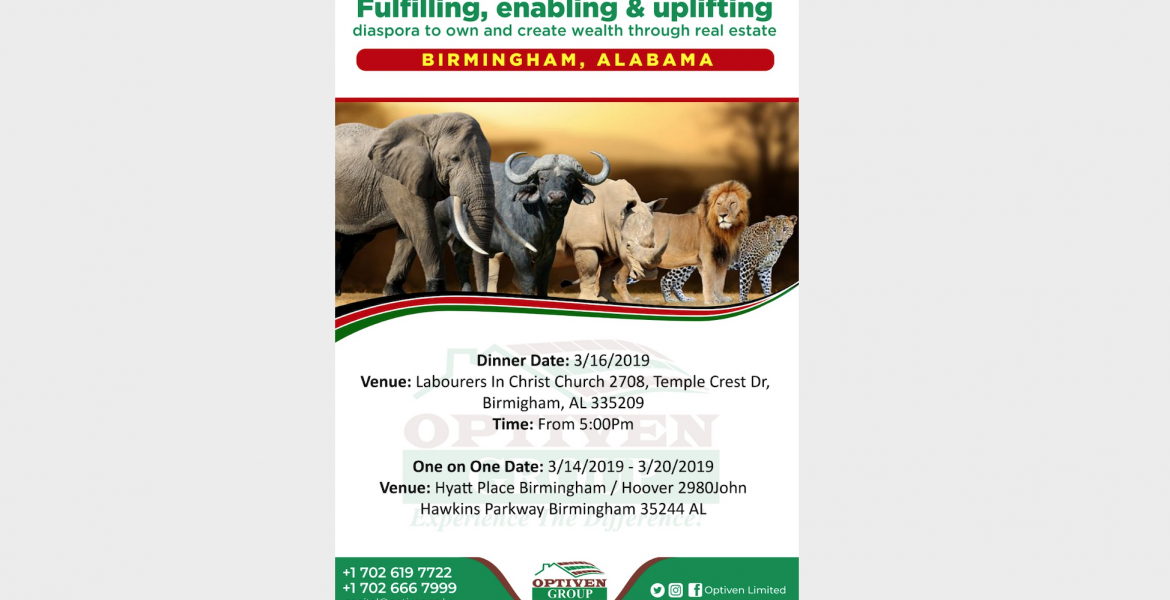 Leading Kenyan real estate firm Optiven Group is currently on a US Tour and will be visiting Birmingham, Alabama from March 13th, 2019 to March 20th, 2019. While in Florida, Optiven will hold a dinner event and one-on-one meetings to present their current projects as follows:
Dinner Date (3/16/2019): Optiven will host a dinner date on Saturday, March 16th at Laborers of Christ Church, located at 2708 Temple Crest Dr, Birmingham, AL 35209.
One on One Meetings (3/14/2019 to 3/20/2019): Optiven Ltd team will be available for one-on-one meetings between March 14th, 2019 and March 20th, 2019 at Hyatt Place Birmingham/Hoover, located at 2980 John Hawkins Parkway, Birmingham, AL 35244.
For more information:
Tel/WhatsApp:
+1 702-619-7722
+1 702-666-7999
Email:
capital@optiven.co.ke
benefits@optiven.co.ke
Website:
www.optiven.co.ke