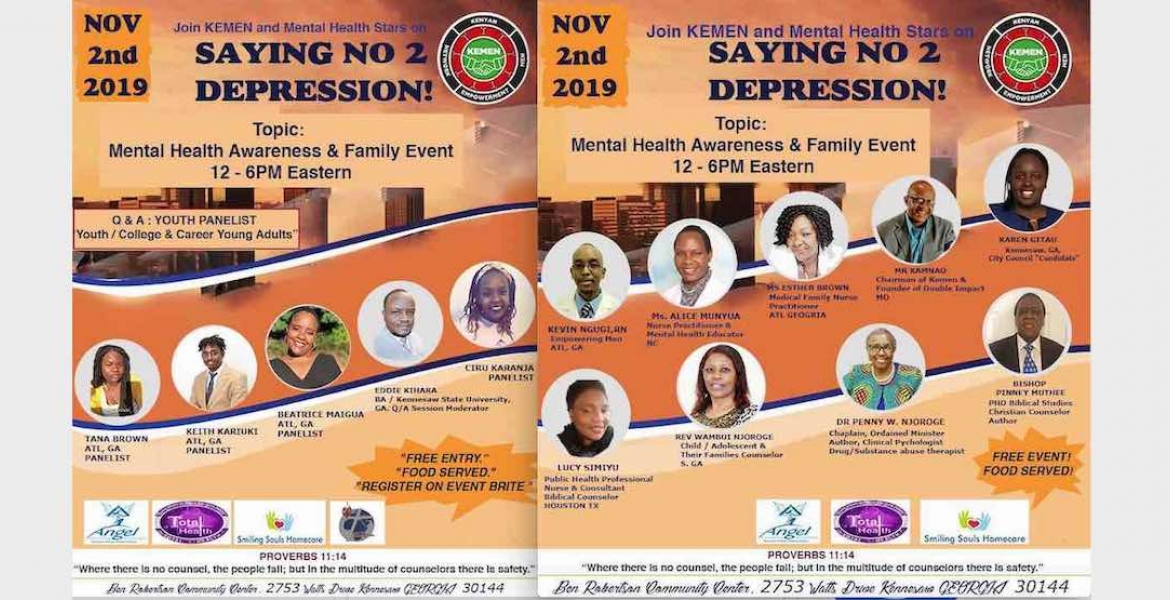 KEMEN, an association of Kenyan men living in the Diaspora, is holding a forum addressing Depression and Mental Health this Saturday, November 2nd in Kennesaw, Georgia.
The Forum, titled "Saying No 2 Depression!", is aimed at discussing and addressing the topic of mental health and depression in the Kenyan Diaspora community, especially among men.
A team of caring professionals, parents, and ministers will be on hand at the Forum for an open discussion about mental health and depession.
The forum is FREE and will feature one-on-one sessions, open questions, and a forum with a panel of young people to address the youth.
KEMEN says this will be a family event, so those planning to attend are urged to tag along all their family members and friends.
Date/Time: Saturday, November 2nd, 2019 from 12pm to 7pm.
Venue: 2529 J O Stephenson Ave
Kennesaw, GA 30144.
Click here to register for the forum.
KEMEN (Kenyan Men Empowerment Network), "whose main aim is to promote the civic welfare (to include, but not be limited to, social, economic, environmental, public safety, quality of life, and heritage issues/concerns)", has been also been holding conference calls and discussions on mental health awareness over the last 12 months.
KEMEN (254kemen.org) urges all men in the Diaspora to join its SATRS (Start Talking About it and Remove Stigma)  team, a team of caring professions, parents and ministers dedicated towards raising mantel health awareness and destigmatizing depression and mental health.
Past online meetings and conference calls have addressed topics such as
Saying to to Depression
Recovering from Alcohol and Drug Addiction
The Effects of Alcohol & Substance Use on the Family System
Biblical Focus on Alcohol and Substance Abuse Recovery Process, among many others
Contact KEMEN: