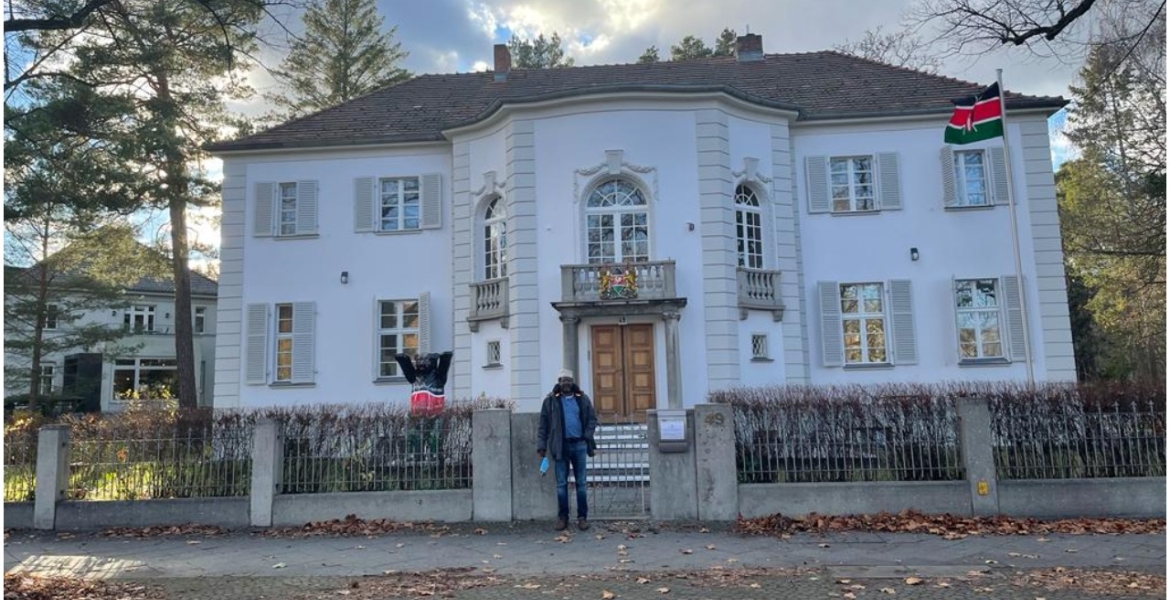 Miguna Miguna at the Kenyan Embassy in Berlin
Lawyer Miguna Miguna says officials at the Kenyan Embassy in Berlin have refused to issue him with an emergency travel document as directed by the court.
On Monday, High Court judge Hedwig Ong'udi directed Miguna to obtain a one-way emergency travel certificate from the Kenyan High Commission in Ottawa or the mission in Germany within 72 hours to facilitate his travel to Kenya.
Miguna, who is stuck in Germany since last week, says he arrived at the embassy in Berlin at 1:50 pm but officials informed him that they received instructions from Nairobi to deny him an emergency travel certificate.
"Amb. Tom Amolo hurriedly left at 2 PM. Ushered to the boardroom by Emma Mabinda, Karuma, and Esther Mungai and told that if they comply with Justice Ong'udi's order and issue me with a travel document, they would lose their jobs," Miguna said through Twitter.
"Emma Mabinda specifically told me that she has received instructions from Nairobi not to comply with the court order."
He claims Mabinda asked him for proof of Kenyan citizenship and he showed her his national identity card.
"She demanded a "Certificate of Regaining Citizenship. I asked her to show me the "Certificate for Losing Citizenship," but she stated that she did not have the same. Mr. Karuma then said that "the court Order you are speaking about is rumors and maybe has been appealed"."
Miguna, who was deported to Canada in 2018, insists he will not reapply for Kenyan citizenship since he has never renounced it.
The Kenyan-Canadian political activist was barred from boarding a Nairobi-bound France Air flight last week over a red alert allegedly issued by the Kenyan government.