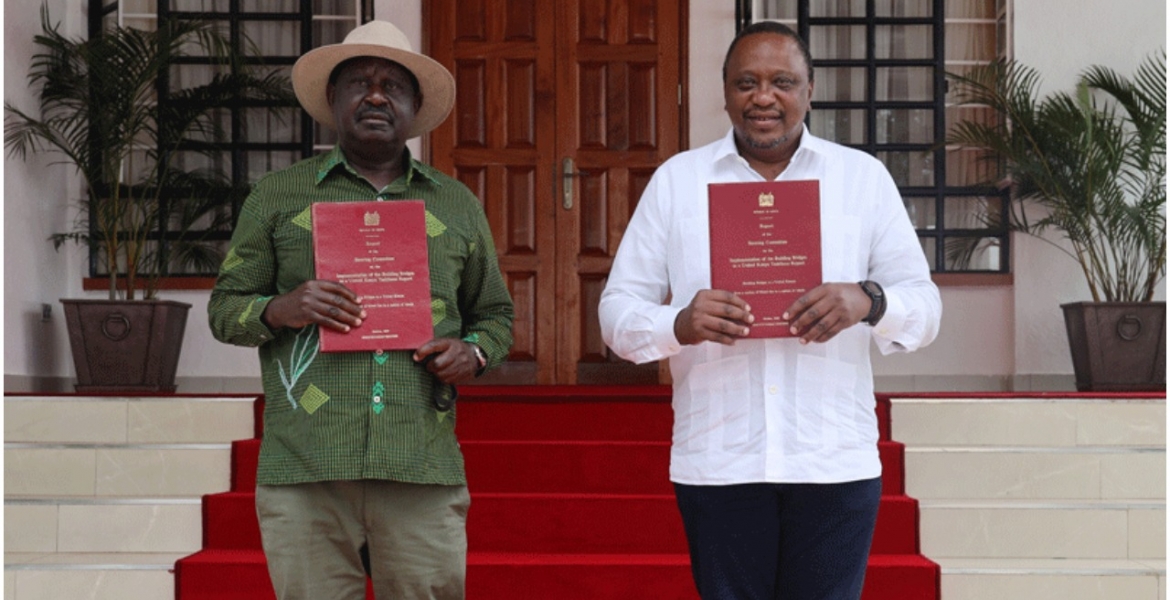 The High Court has nullified the entire Building Bridges Initiative (BBI) referendum process, terming it an illegality.
A five-judge bench comprising Justices Joel Ngugi, George Odunga, Jairus Ngaah, Teresia Matheka, and Chacha Mwita on Thursday ruled that President Kenyatta violated the Constitution by initiating the referendum process following his handshake with ODM leader Raila Odinga.
"The constitutional amendment Bill is an initiative of the president and the law is clear that the president does not have the constitutional mandate to initiate any constitutional changes," the judges said in a unanimous ruling.
They added: "BBI is a hybrid initiative unknown to the constitution, therefore it is our finding that the popular initiative as means to amend the constitution under article 257 of the constitution is a power reserved for Wanjiku. Neither the president nor any state organ can utilize article 257 of the constitution to amend the constitution."
The judges further overturned the decisions made by the Independent Electoral and Boundaries Commission (IEBC), including verifying BBI signatures, saying the electoral body was not properly constituted as it lacked the requisite quorum of five commissioners to make any major policy decision.
"The BBI bill cannot be subjected to a referendum before IEBC conducts voter registration. There is no quorum at IEBC to conduct its mandate including signature verification submitted by IEBC. At the time of launch of the report, there was no legislation to guide the conduct of the referendum," the judges said,
"All the decision IEBC made regarding the constitutional amendment Bill is illegal because it lacks the quorum required."  
The judges further held that the BBI steering committee was unlawful and had no legal capacity to promote constitutional changes.
"An injunction is hereby issued barring IEBC from undertaking any processes with regards to the amendment of the constitution," they said.
The ruling follows a consolidated case filed by eight petitioners. The judges directed parties to bear their own costs.
The ruling deals a blow to the Constitution of Kenya (Amendment) Bill 2020, which was headed for a referendum following approval by both the Senate and National Assembly.