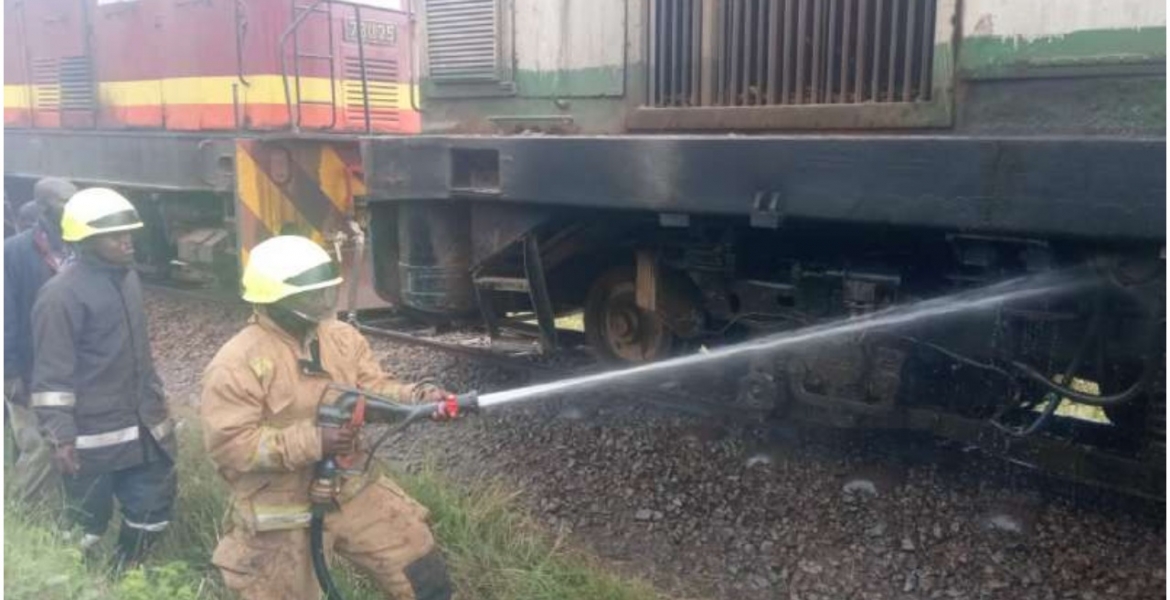 A Nairobi-bound cargo train was on Sunday forced to make an emergency stop after it caught fire.
The train used to ferry petroleum products was headed to the city from Nanyuki when it caught fire shortly after departing the Sagana station.
No casualties were reported as the entire crew aboard the locomotive managed to escape.
The team used hand fire extinguishers to control the spread of the fire before firefighters from Murang'a station arrived.
Captain Anthony Mwangi, the lead firefighter at Murang'a, said he received a call at 9:30 am and rushed to the scene immediately. He thanked residents for promptly informing them of the fire incident.
The fire believed to have been caused by an electric fault was put out by the firefighters in conjunction with residents, who flocked the scene.
"The fire was caused by a slight electric fault in the locomotive engine and has since been contained. Our engineers arrived at the area promptly and rectified the problem," Kenya Railways said through Twitter on Sunday.
Caroline Muthoni, a resident, said she was preparing to go to church when she saw a huge smoke emanating from the cockpit area of the approaching train.
She feared getting closer to the six-wagon train as she thought it would burst into flames.
In January, 1,500 passengers were forced to spend the night in the bushes after a commuter train en route to Nanyuki from Nairobi stalled in Ruthagati, Nyeri after it developed a mechanical problem.