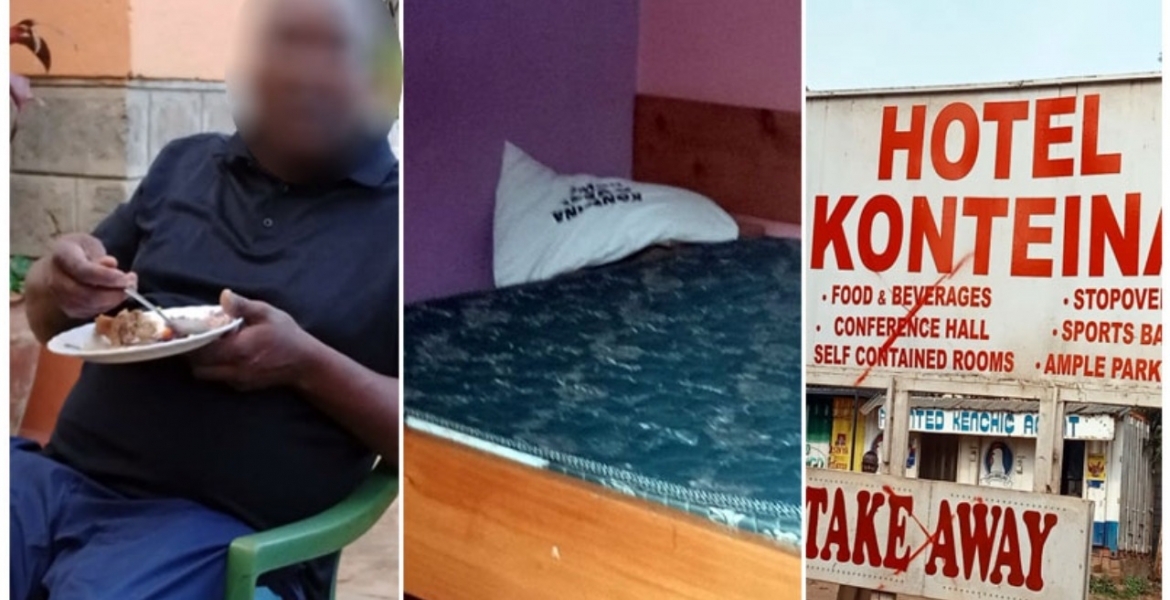 Police in Kiambu are detaining a youthful woman in connection with the mysterious death of a 47-year-old businessman.
The man identified as Moses Muiruri was found dead in Room Number 7 at Hotel Konteina in Kiambu town on Saturday morning. Police said blood was oozing from the man's mouth when his lifeless body was discovered by hotel attendants.
The deceased was in the company of a woman when he checked into the hotel room at around 4:30 am on Saturday. The lady was arrested and booked at Ndumberi police station as investigations continue.
Preliminary investigations revealed that Muiruri picked the woman from her house in Mwiki, Nairobi on Friday night and went with her to a drinking joint before booking themselves into Hotel Konteina. The woman allegedly left the room in the wee hours of Saturday morning, but security guards stopped her from leaving the compound.
"The security guards said they would only let the woman leave upon getting permission from Muiruri," Kiambu police commander Badel Mohammed said.
The hotel attendants went to Muiruri's room at around 9:00 am and found him unconscious and bleeding from the mouth. Police, who were alerted of the incident, visited the scene and pronounced him dead. His body was moved to Kenyatta University Funeral Home.
"He was lying motionless on the bed while naked," Mohammed said.
Mohammed said preliminary investigations indicate Muiruri, who sold pigs for a living, had a history of breathing problems. Muiruri's companion told police that the businessman had earlier complained of chest pains and breathing problems.