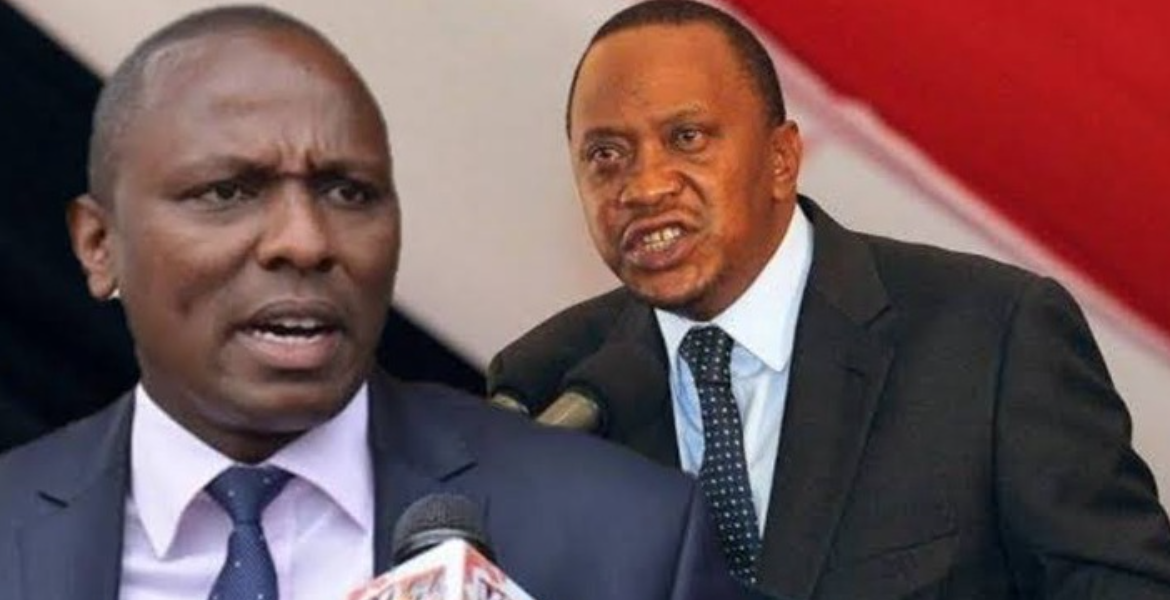 Former President Uhuru Kenyatta and Kikuyu MP Kimani Ichung'wah
National Assembly Majority leader Kimani Ichung'wah on Monday tackled retired President Uhuru Kenyatta's remarks, stating that the Kenya Kwanza government was not frustrating him as he claimed.
The Kikuyu Member of Parliament reasoned that President Ruto's administration is not infringing on Uhuru's rights. He said that Ruto's government is keen on protecting Mr Kenyatta's rights and properties as engraved in the constitution. He conveyed that Ruto's government will ensure he receives his retirement perks even as he continues to partake in politics as witnessed in Jubilee's National Delegates Conference held at Ngong Race Course on Monday, May 22. 
"Nobody is selling fear to you! Nobody is intimidating you! You have your rights as a former President to do whatever you want, and our Constitution protects you. We will your rights just as we protect the rights of these Kenyans," Ichung'wah stated. 
The lawmaker was responding to Uhuru's utterance on Monday at Jubilee's NDC where he differed with Kenya Kwanza's expectations of his retirement. Uhuru had insisted on not exiting the political scene, contrary to the Presidential Retirement Act which dictates that a former president should not take part in active politics six months after handing over power to his successor. He insisted that the former head of state should grant them space to restore the mess he left behind. 
 "Uhuru Kenyatta, if you want to return to politics, welcome back. Come to our level, and we will deal with you at our level in the manner you want to be dealt with. We only respect you as our former and retired president. If you want to degrade yourself from the level of a retired president to a party activist, we shall deal with you as a party activist," Ichung'wah warned. 
He went on to disregard Ruto's assertions, claiming that Mr Kenyatta intends to initiate anti-government protests to disable Ruto's administration. His statement came after Mr Kenyatta accused Ruto's government of intimidating him. Uhuru mentioned that the raid on his Northlands farm encouraged him to resume active politics.