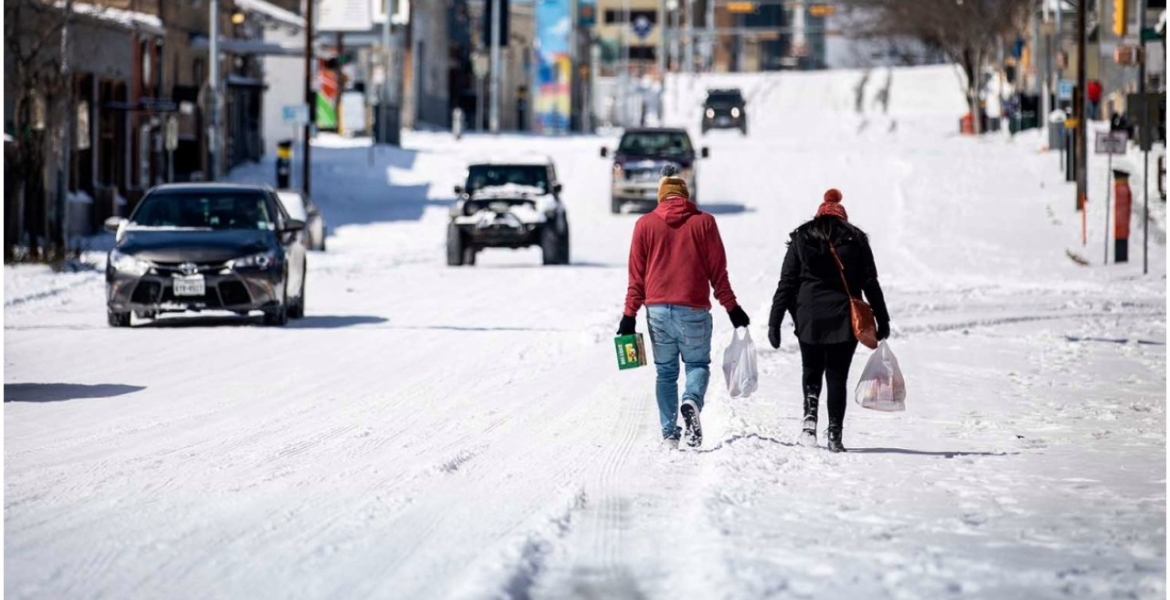 A section of Kenyans living in Texas has shared their experiences following a brutal winter storm that has struck the state.
Hundreds of water systems were damaged by the freeze, leaving nearly 50 percent of the state's population without water services.
The state's energy grid was also overwhelmed by a surge in demand for heat as temperatures plunged to 30-year lows, hitting -18C earlier this week. Thousands of homes are still without electricity.
Speaking to Nation correspondent in the US Chris Wamalwa, some of the affected Kenyans narrated how they have endured the harsh conditions.
Chris Majani, who moved to Texas from Tennessee three years ago in search of warmer weather, is one of those affected. 
He says his family was forced to spend some nights in their Honda SUV to keep warm and boil water from melted snow to wash utensils and prepare supper.
"On the first night, it was not that cold because of the cushions the house had. However, on the second night, I had to put the family in the car and run the engine nonstop. We spent that night bundled together in the car keeping warm, charging phones, listening to music, and occasionally listening to news," he said.
Majani admits that most Kenyans were caught off-guard as they did not consider amenities such as home thermostats and a fireplace while house-hunting.
"I was not expecting this kind of cold temperature because I thought Texas was much warmer than Tennessee and most of the Northeast. That's the reason I relocated here," Majani said.
"People with relatives outside the metroplex packed and left. As for us, we didn't have that privilege but we had one advantage; our house was connected to the gas pipeline, so at least we could cook some food."
Lucy Simiyu, who lives in Houston with her husband Bob Simiyu, also narrated a similar experience.
"Who would have thought that, with the scorching weather in Texas, anybody would one day be making a snowman in their front yard? In fact, it never occurred to us, and of course, many other Texans, to buy winter tires. But, as scriptures would tell us, many are our plans but the Lord has ultimate plans for our lives."
For her and her family, February 15th was their worst day as their house's roof caved in but no one was harmed.
"As a family, and I'm sure I speak for many others, we did everything the weather people told us to do. We left taps dripping, covered pipes outside. But, before long, water was gushing out from a burst pipe. In less than five minutes, the house was filled with water because the roof came tumbling down. Thankfully, none of us was injured," said Lucy.
Paul Karachia of Dallas termed Monday night as the coldest night he has ever experienced since he was born.
He said: "I was without power in my house for 12 long hours. I woke up Tuesday morning feeling like I had spent the night in a refrigerator. It was my first time to experience anything like this. Things got even worse later mid-morning when the water pipes burst. I then decided to move into a hotel but then, all the hotel rooms were completely booked. After driving around for hours, I found one and checked in."