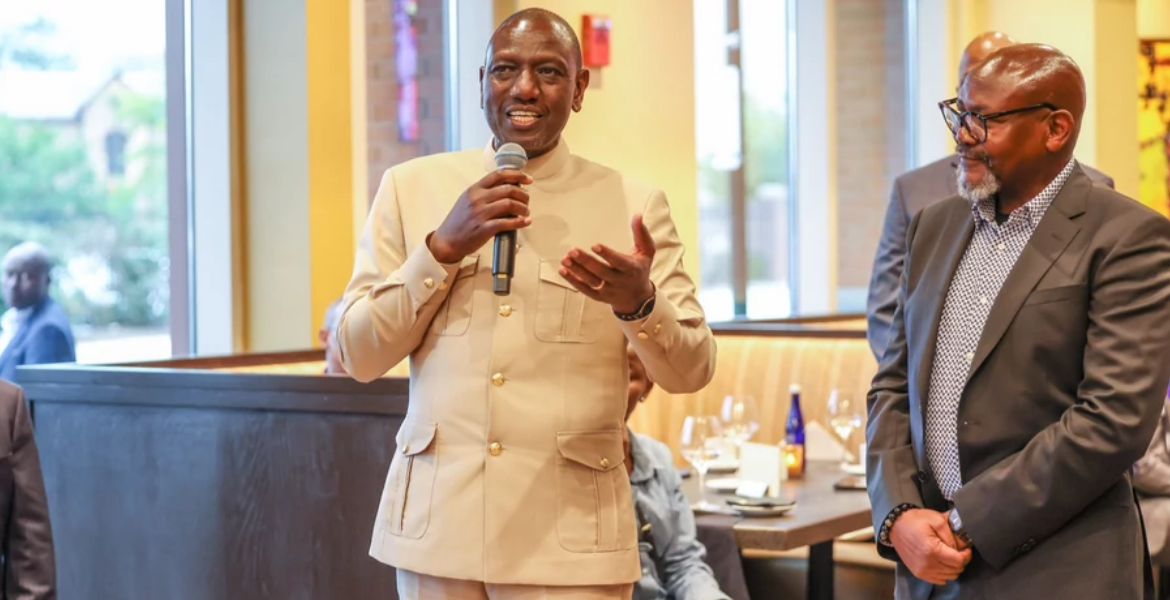 President William Ruto Visiting Swahili Village in New Jersey, a Kenyan Restaurant run by Kevin Onyona
Kevin Onyona, the owner of the Swahili Village restaurant chain, takes pride in hosting high-profile individuals including the US Secretary of State Antony Blinken, President William Ruto, former President Uhuru Kenyatta and Kenyan opposition leader Raila Odinga.
Even though his restaurant in Washington D.C.'s diplomatic district caters to bigwigs and dignitaries with African cuisine, Onyona opts for a casual combo of blue checked shirt and sporty pants. His business empire was valued at $3.5 million in 2020 and he operates three restaurants in Beltsville, Maryland, downtown Washington D.C. and Newark, New Jersey, with plans to open two more in Northern Virginia and Manhattan, New York. Onyona relishes the opportunity of serving an elite clientele spanning the global front. Despite being self-taught, Onyona's American dream was sparked by his girlfriend's educational pursuits and is now spreading like wildfire.
Onyona's girlfriend moved to Maryland for her studies which led him to take a sales executive job at the Home Depot. However, he became frustrated with the lack of African restaurants offering a fine dining experience suitable for family outings. He explains that the restaurants nearby did not have dinner spaces or serve a nice, decent meal with good hygiene and ambience. Disappointed by the absence of the missing luxury, Onyona decided to quit his position and voyage into the hospitality industry to meet his identified, unfilled vision.
He wanted to provide a good space for the African community to dine with their families and enjoy the foods they were familiar with. Onyona's passion for cooking, which he developed while watching his grandmother prepare meals, guided his career path. He believes that everyone should have some culinary skills.
In 2016, the inaugural "Swahili Village" restaurant opened its doors in Beltsville, Maryland, aiming to offer diners an authentic African experience. The establishment's founder has prioritized all components of the dining affair, comprising delightful service, auspicious food quality, heart-warming décor ambience, and captivating music playlists. Swahili Village proffers an array of unique African feasts such as Nyama Choma, Ugali, and Kachumbari, among an extensive selection of others. The Kenyan preparation style used by the restaurant sets it apart from others in the industry.
Swahili Village caters to groups of five to seven people with offerings of grilled goat, beef, and chicken accompanied by collard greens, spinach, cabbage, ugali, and chapati, all topped with kachumbari. The restaurant also serves Ndengu (Greengrams), chapati, pilau, mbuzi choma, chicken curry, fish curry, tilapia curry, African tea, and Tusker, a popular Kenyan beer. Swahili Village has employed nearly 300 individuals from over 10 different countries. The founder plans to work with the U.S. Department of Labor to hire skilled workers from Kenya.
Onyona has signed agreements with several universities in Kenya to offer internships that will train students and potentially lead to job opportunities. Onyona also aims to establish a foundation to give back to society and plans to exit his current role at Swahili Village in one to two years to focus on bigger ambitions. The brand is also looking to expand to Dubai in the near future.
During his trip to New Jersey on September 17, President William Ruto visited the Swahili Village restaurant where he praised the owner for successfully operating a Kenyan restaurant in the USA. Accompanied by Foreign Affairs CS Alfred Mutua and Tourism CS Peninnah Malonza as well as Kenyans in the diaspora, the President had the chance to try out some of the dishes on offer.