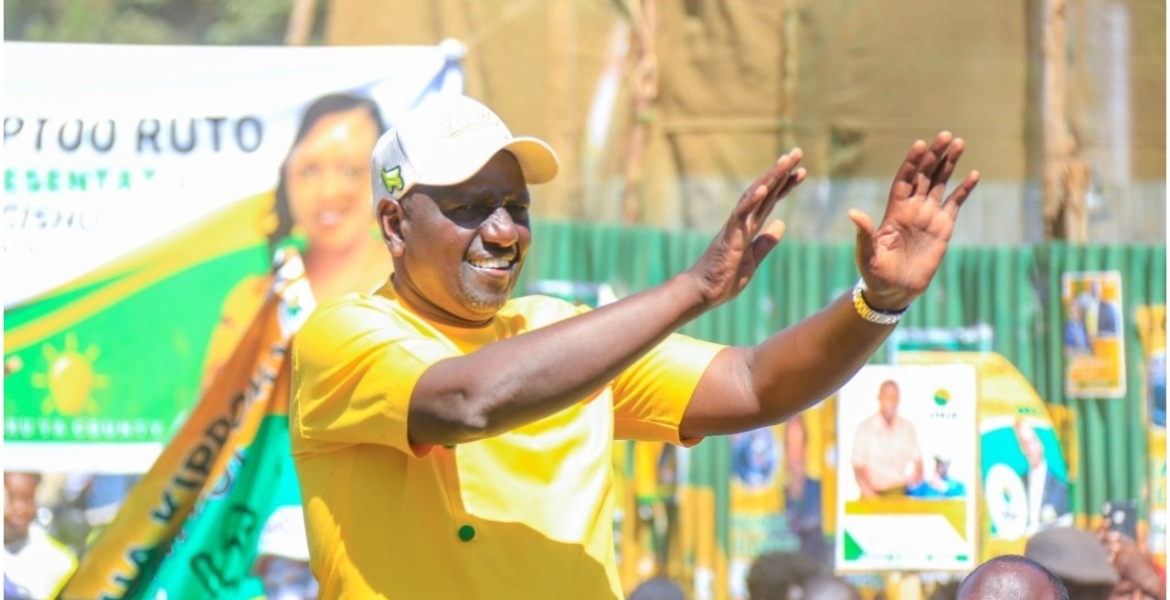 Deputy President William Ruto has hit back at ODM leader Raila Odinga for questioning his church and harambee donations.
While defending himself against claims that he was dishing out illicit proceeds, the deputy president said he is proud of helping the needy and Odinga should refrain from discussing his finances.
"Nimesikia yule ambaye ninashindana na yeye analalamika sana ati Ruto ametoa milioni mbili kwa vijana wa bodaboda, mara ametoa milioni mbili asaidie mama mboga. Ni kweli, I have supported close to 300 different groups in Kenya, and I am very proud of it," said Ruto.
He added: "I want to tell my competitors and Kenyans that I have not appointed any politician to be an auditor of the finances that I have. Those masquerading as if they are auditors to anybody, they are fakes."
Ruto, who was addressing a mega rally at Eldoret Sports Club on Saturday, accused Raila of playing the victim, saying it was hypocritical for him to focus on his little donations while he is himself a billionaire.
"Hawa watu wametuzoea vibaya wanajifanya wanalalamika ati milioni moja, milioni mbili; hawa watu ni mabilionaire. Mabiashara yao yako kila mahali. Ata huyu ambaye analalamika kwani nyinyi hamjui hii pombe inauzwa kila mahali ambaye imemaliza watoto wetu si inatoka kwa kampuni yao hapa chini. Si wako na kampuni ya kuuza gas, si wanauza petrol, alafu pesa zao wanapeleka Ulaya alafu wanakuja kutufanyia uzembe," said Ruto in Swahili.
"Hiyo mabilioni pesa mnapeleka huko Dubai si mngepea hawa mama mboga ata milioni tano?"
At the same time, Ruto exuded confidence that he will defeat Odinga in the August 9th presidential election despite being backed by the State.
"You can arrest as many of us as you can; you can threaten as many of us as you want, you can blackmail as many of us as you want; but in this year, in this election, we are going to put an end to all where every citizen has the power to decide their nation," Ruto stated.
"Hawa mabwanyenye wamezoea mtu wa kuwapigia makofi, magoti na kura lakini mwaka huu tutawakomesha."