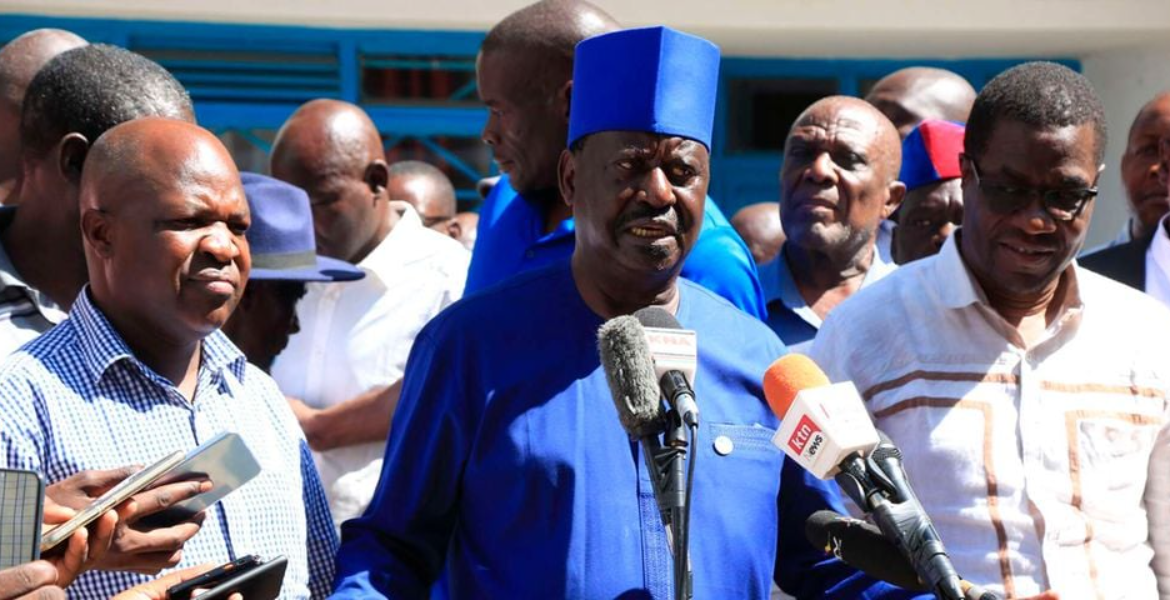 Azimio Leader Raila Odinga Addressing Journalists at Mama Grace Onyango Social Hall
Yesterday, opposition leader Raila Odinga and his allies had a meeting where they discussed secession talks as a last resort to express their disapproval of the governance policies fronted by the Kenya Kwanza Kwanza government. 
They had gathered at Kalonzo Musyoka's Yatta farm in Machakos County for prayers when they declared that on Tuesday next week, they would start collecting signatures from Kenyans discontent with Ruto's leadership. The move is targeted at requesting assistance from the United Nations in creating two separate republics.
Mr Odinga initiated the discussion by asserting that the Kenya Kwanza government had been unable to address the concerns voiced, and it was time to pursue self-determination. The Azimio leader accused Dr Ruto of disregarding Kenyans' complaints about the high cost of living, arguing that Kenyans should not endure oppressive rule for another five years and that self-determination is their only option.
''They stole the elections and imposed themselves on the country and now they want to ensure all Kenyans are reduced to paupers through punitive taxation, but we will not allow that to happen'' Mr Odinga said.
Raila troops affirmed there should be no taxation without representation. They blamed the Supreme Court and IEBC for allegedly imposing Dr Ruto as the president against Kenyans' wish. Mr Odinga condemned MPs from Azimio-affiliated parties who had shifted to Kenya Kwanza, saying that such leaders violate multi-party democracy. 
"They are now bragging that the controversial Finance Bill will be passed by the National Assembly mpende msipende; whether you like it or not, yet they bribed MPs to join their coalition to boost their numbers in the August House so that they can pass whatever laws they wish without caring about the concerns of Kenyans," said Mr Odinga.