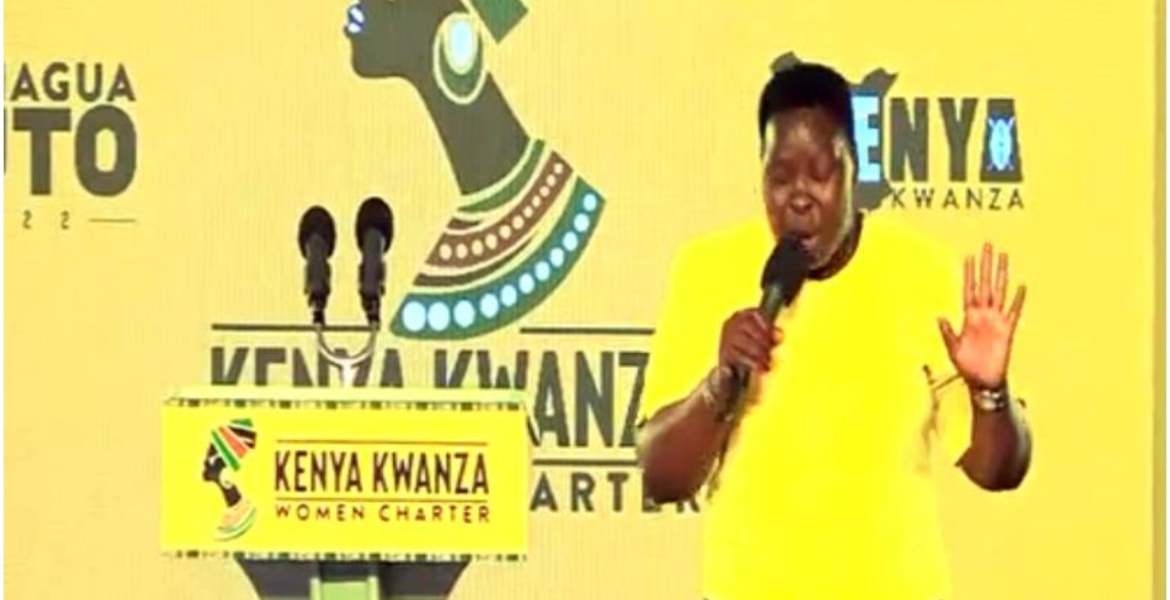 A pastor suffered a slip of the tongue during prayer at a Kenya Kwanza Alliance event at Nyayo Stadium in Nairobi on Friday.
Evangelist Jane Wairimu was praying for the alliance's presidential candidate William Ruto and his running mate Rigathi Gachagua during the Kenya Kwanza Women Charter conference at the stadium when she referred to the coalition as "Kenya Kwisha".
"Kenya Kwisha" is a popular term used by Ruto's political opponents to deride the Kenya Kwanza Alliance. The evangelist quickly realized the goof and nodded in disproval, before continuing with the prayer.
"Thank you God because of where we are heading, our next president (Ruto) is our friend, he has taught us about walking with you, he has taught us about being strong... Were it not for you Lord, he would have already lost the battle. On this date, we want to come into agreement with the "Kenya Kwisha" aargh... with the Kenya Kwanza women that every handwriting has been erased," she said.
This happened in front of Ruto and Gachagua, who were caught in surprise and appeared embarrassed.
During the event attended by women groups from across the country, Ruto pledged to implement the two-thirds gender rule within the first three months if he clinches the presidency.
"Within three months of the Kenya Kwanza rule, we will put a mechanism to actualize the two-third gender rule and immediately operationalize that mechanism so that women don't have to wait longer," Ruto said.
He added: "This election is about the economy of Kenya and its people. The face of this election is a woman called mama mboga. In this election, Kenya Kwanza is the place for the women of Kenya. The most formidable women leaders of Kenya are in Kenya Kwanza."