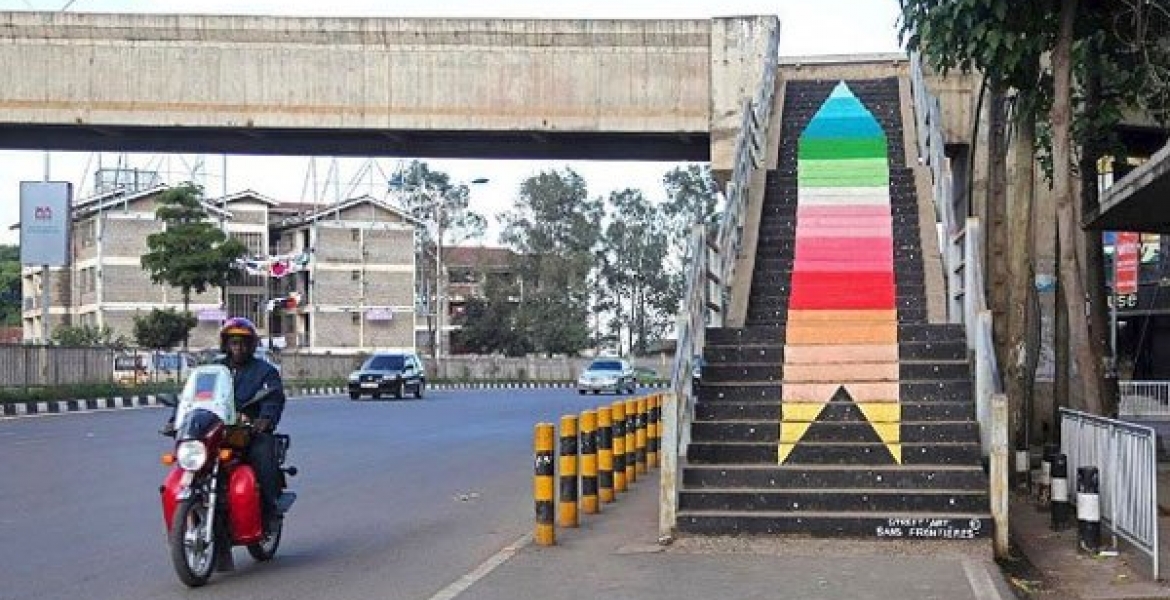 A heated online debate on homosexuality has emerged following recent paintings done in Nairobi by a group of street artists.
A section of Kenyans online have accused the artists of attempting to promote homosexuality in the country using the paintings on the walls and stairs.
A painting bearing colors (rainbow) associated with lesbian, gay, bisexual, and transgender (LGBT) community has particularly elicited mixed reactions. 
The painting is drawn on the stairs leading to a footbridge near the University of Nairobi.
One of the artists behind the drawing, Naitiemu Nyanjom, describes it as a "stairway to heaven."
However, some online users in Kenya accuse the artists of secretly promoting homosexuality through their work.
"You start accepting the gay-pride colors you start accepting 'queer' people. It's mental conditioning gay people want, anti-gay people hate but the rest of us are just saying keep it private and out of our public spaces," one Twitter user says.
Another user says it's wrong for the artists to do the project in a public space without "consultation." 
"We're either a country of rules or we're not. These rules exist for a particular reason," he tweets.
However, some other internet users say they find nothing wrong with the paintings.
One tweet: "Just a little color is added to brighten Nairobi and all of a sudden your little homophobic egos can't stand it.....I am tired."
The paintings project is being done under Switch-a-Roo, a cultural exchange program between French and Kenyan artists.
Those behind the program say its aim is to take art closer to the people and create a sense of ownership in communities through painting.
Kenyan law prohibits homosexual acts, which are punishable by 14 years in jail.
A three-judge bench from Kenya's High Court is set to rule on whether to decriminalize same-sex relationships in May.