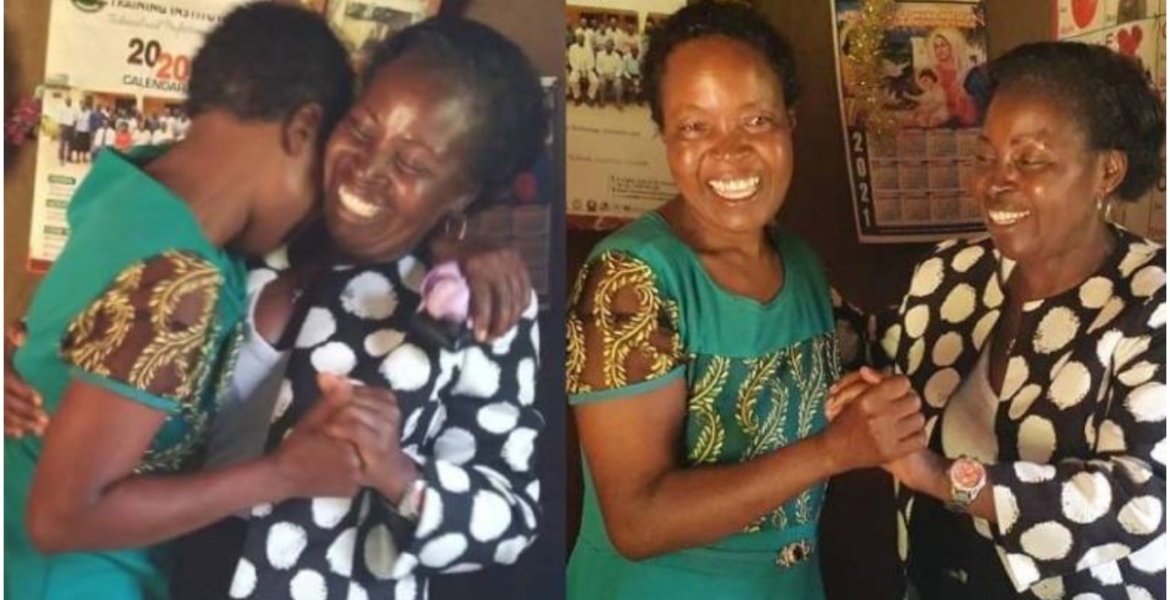 Faith Karimi and her daughter Patricia (in green)
It was joy and dance as a family reunited after being separated for 39 years.
Faith Karimi, who hails from Kangaita, Meru County, was separated from her daughter Patricia Burudi and her father Zablon Burudi in 1982.
Before their recent reunion, Faith and her daughter Patricia had spent years looking for each other in vain.
"All l knew is that the father comes from Western, but I didn't know the exact location; which complicated my search," Faith told The Nairobian.
Patricia, 39, said she was aware that her mother was from Central Kenya but she could not tell the place.
"I only heard rumors as my father never wanted to discuss my mother completely," the mother of three said.
The three reunited recently following a story published by The Nairobian, where Faith appealed for help to find her daughter.
Faith met Patricia's father Burudi in 1982 in Nanyuki. At the time, she was 16 and in Class Seven, while Burudi was 29 and worked in a local sawmill. The two started dating and Faith got pregnant, and gave birth to Patricia.
"Faith had all the beauty a man would dream of in a woman. I knew she was a pupil but… it happened," said Burudi.
A few months later, Faith went back to school and left the baby under the care of her mother. One day, Burudi says he met Faith's mother carrying firewood, and the baby tied on the back.
"It looked like my baby was hurting and it pained me," he said.
He says he convinced the mother to let him take the baby and she agreed. He then employed a house help to care for the baby but one day he returned from work and found the nanny had gone and the baby left with a neighbor. 
This prompted him to take six-month-old Patricia to live with his mother in Malava, Kakamega County and never returned to Nanyuki. When Faith returned from school, she was told Burudi had taken the baby to Western Kenya for some rites.
"I was told the father had picked the baby for naming and shaving as per Luhya traditions. I was not disturbed since she was with her father," she said.
Patricia was brought up by her grandmother, and schooled at Mukhonje Primary, Mukumu Girls High, then Sang'alo Institute of Science and Technology.
Burudi says the only means of communication at the time was writing letters. "Unfortunately l didn't have any contact from her or her relatives and it wasn't easy finding Faith again."
After reading Faith's story on The Nairobian, Patricia contacted the publication to link her with her.
Faith, who is still single, traveled to Kakamega where she finally reunited with both Patricia and Burudi after 39 years. Patricia says her prayer is to see her parents together after the reunion.
"A lot has happened, but nothing stops them from being together," she told The Nairobian.