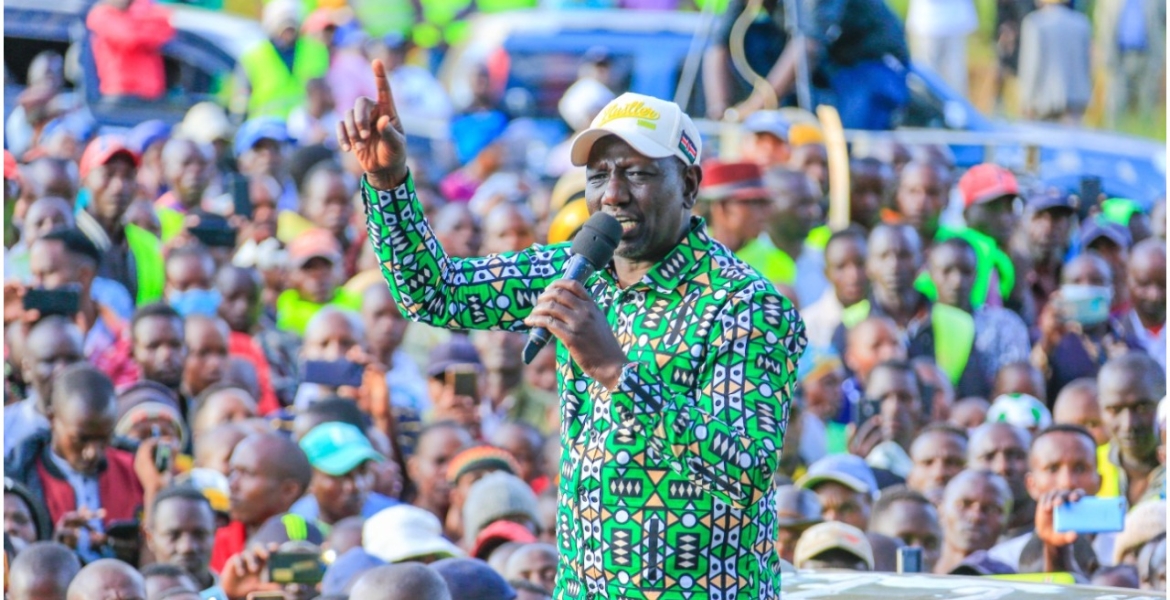 Deputy President William Ruto has apologized to Kenyans over the controversial remarks made by Meru Senator Mithika Linturi over the weekend. 
Speaking at Bomet Green Stadium on Monday, Ruto admitted that the utterances were inappropriate and urged members of his UDA party to be mindful of their language while addressing the public.
While noting that Senator Linturi has already apologized for the 'madoadoa' remarks, the deputy president cautioned leaders against using political platforms to make inciteful statements.
"For those who are talking about Senator Linturi ...he made a statement which he regrets, a statement that had inappropriate language and senator Linturi has apologized, he has withdrawn the statement and has unconditionally apologized to the people of Kenya," said Ruto.
"We want to say, going forward and to members of my team, the hustler nation, that all of us must mind our language, all of us must be careful about what they say so that we can unite this nation and that is what the Hustler Nation believes in." 
Ruto further made it clear that UDA is a national party that does not endorse divisive talks and is focused on uniting the country.
"As a party we believe in the unity of the nation we don't believe in ethnic, regional, or village politics, and I want to say that we do not subscribe to any divisive talks we do not agree with talks that profiles any individuals or groups because we are a national party that brings all the communities of Kenya together," said Ruto.
He added: "Also for the avoidance of doubt, I want to ask the institutions charged with making sure that we have a peaceful nation and election. They must apply the law in a manner that does not create two sets of laws for two sets of groups. We want the law to apply equally so that we can secure our nation."
Linturi was on Sunday arrested in Eldoret over the remarks and was taken to Nakuru to record a statement. He maintains that the remarks made at the UDA rally in Eldoret on Saturday were taken out of context.
Director of Public Prosecutions (DPP) Noordin Haji said the senator's utterances could incite feelings of contempt, hatred, hostility, violence, or discrimination.