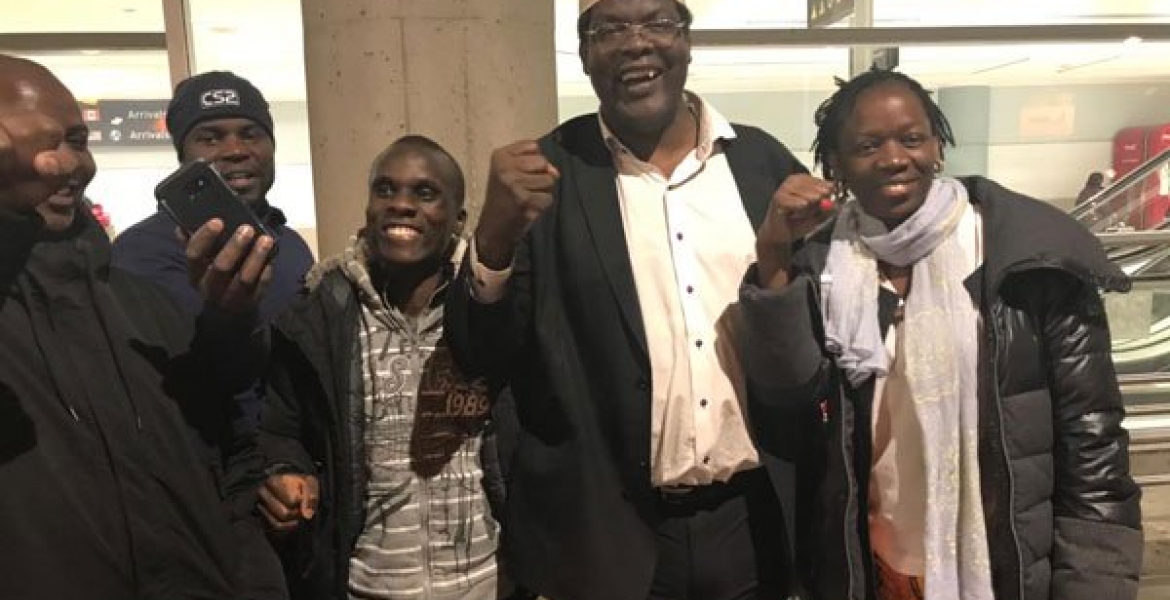 Deported opposition firebrand politician Miguna Miguna arrived in the United States for his 10-day tour to popularize the National Resistance Movement (NRM) on the global stage.
Speaking at Homewood Suites Hilton in Washington DC on Friday, the self-declared NRM general vowed not to succumb to intimidation and harassment by President Kenyatta's Jubilee administration.
The Peeling Back the Mask author told his audience that he is a true reflection of his mum, who he described as a "sharpshooter".
"You could not come around with nonsense and get away with. I am Miguna because I have never seen my father who died when my mother was pregnant. Having been raised among seven sisters, my mother had to sharpen me to tackle real-life matters," he said.
"I have been abducted twice in Kenya. The first time was when we, as students of UoN, organised and took former President Daniel Moi head-on after he denied Jaramogi Odinga a chance to vie for a political seat under any party."
The lawyer said that he feared for his life after cops raided his house in Runda and arrested him, just days after he administered an oath on opposition leader Raila Odinga at Uhuru Park grounds on January 30th.
"When they were breaking my door, I quickly thought to myself and dashed into the room to pick my passport. This, I said to myself, would help me in the event they drove me to an unknown location to kill me. I would drop my passport so that someone would trace me," he said. 
"With my passport I would be safe."
Miguna will also tour United Kingdom and Germany, before returning to Kenya on March 26th for what he termed as mother of all liberation struggles.
He tweeted a week ago: "Let's make it a stunningly memorable day in the history of our liberation struggle. Let's make the MOTHER OF ALL LIBERATION STRUGGLES a ringing success! Viva!"
Miguna was banished to Canada on February 6th after spending five days in custody of police officers.
The High Court last week suspended orders that saw Miguna deported and further ordered the immigration department to issue the former Nairobi gubernatorial aspirant with a Kenyan passport. The court also ruled that he is free to return to the country on a Canadian passport if need be.