Police in Australia are looking into the cause of an inferno that claimed the life of a Kenyan woman and her two kids at their residence in Canberra.
45-year-old Anne Wachera Muhoro, and her two children, Ezvin (8) and Furaha (5) perished on the morning of February 19th after their house located in Bonner, Canberra caught fire in mysterious circumstances.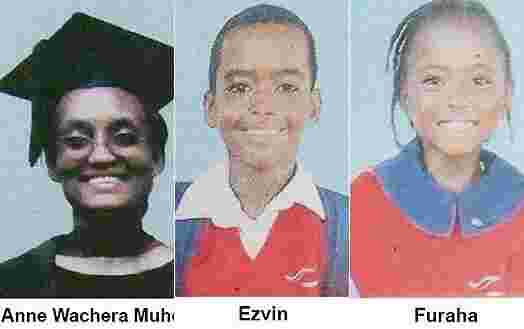 Detectives handling the case have appealed to anyone with information that might help in the investigations to come forward. Police say a camera footage taken from the estate between midnight of Sunday, February 18th and 8.45 am Monday, could be of great help.
Ms Muhoro had been working as a software engineer in Canberra and was set to attend a child custody hearing on the day of her death at the Family Court, but failed to show up. Her estranged husband had moved to court seeking custody of their children.
Fire crew and emergency service officers found the bodies of Ms Muhoro and her two kids on Monday morning.
Initial investigations by Australian police pointed out to an arson, with Detective Superintendent Scott Moller promising to get to the bottom of the matter. One suspect was apprehended the day after the fire, but was later released.
Detective Moller says they are exploring to the possibility that the three died before the fire.
"The complex task of evidence collection from the seat of Bonner has now been completed but the forensic testing in relation to this evidence is very much ongoing," Mr Moller said.
"The investigators are working to establish the full circumstances around this incident so at this time I would ask anyone who has any information, specifically, dash cam footage from 8.45am to midnight on Monday 19th February to contact crime stoppers."
"There is a lot of people assisting us in relation to this inquiry and we are not going to identify anybody today," he said. "This is a tragic situation and everyone gets affected by it and everyone we have spoken to are heartbroken."
In 2011, a man identified as George Munene filed an online petition on a website (change.org) against Ms Muhoro, accusing her of denying him a 50/50 child custody of their son, Ezvin Munene Mugera.
"Custody battles are rife and allegations of domestic violence have been misused (by a few women) to gain an upper hand in custody and property settlement battles," George said in the brief petition. He further lamented about losing his AUD0.6 million (Sh47.7 million) house to Ms Anne Wachera Muhoro.